Publication:
Pretratamientos en una etapa, multietapa y proceso "one-pot" de madera de pino y eucalipto, basados en el empleo de líquidos iónicos apróticos, próticos y bioderivados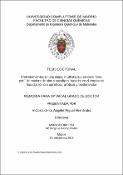 Advisors (or tutors)
Editors
Publisher
Universidad Complutense de Madrid
Abstract
La biomasa lignocelulósica y en concreto la madera, es una estructura tridimensional, no uniforme, que necesita emplear pretratamientos para romper los enlaces entre los compuestos quela constituyen. Los procesos de pretratamiento de biomasa lignocelulósica pueden suponer hasta un 40 % de los costes de procesamiento totales.Los líquidos iónicos son sales formadas por un catión, generalmente orgánico y un anión,cuyo punto de fusión es inferior a 100 °C. Su capacidad de solvatación, su naturaleza no volátil, su no inflamabilidad, su alta conductividad iónica, su reciclabilidad y su facilidad de diseño y síntesis atendiendo al uso que se les quiera dar, los convierte en una alternativa a los disolventes convencionales. En los últimos años se ha comprobado que algunos líquidos iónicos son capaces de romper la red de la biomasa lignocelulósica, reduciendo la cristalinidad de la celulosa, incrementando la accesibilidad y favoreciendo la posterior sacarificación enzimática. Sin embargo, existen todavía muchos estudios que deben llevarse a cabo en lo relativo a la recuperación del líquido iónico, la reducción de costes del proceso, la eliminación de etapas de lavado, la toxicidad y la actualización continua en base a las nuevas familias de líquidos iónicos que van surgiendo (líquidos iónicosbioderivados) o la aplicación de otras ya existentes (líquidos iónicos próticos)...
Lignocellulosic biomass is a recalcitrant non-uniform three-dimensional material that requires pretreatment processes to deconstruct the linkages and disrupt the structure into their main compounds. Pretreatment technologies can constitute up to 40 % of the total processing costs of lignocellulosic biomass conversion. Ionic liquids are salts formed by a cation and an anion whose melting point is below 100 °C. High solvation capacity, negligible volatility, non-flammability, high conductivity, recyclability, and switchability, are some of the ionic liquids advantages against other organic solvents. Due to all these properties, ILs are alternative and promising solvents in a wide range of applications, including biomass pretreatment. During the last years, the ability of certain ionic liquids to disrupt the lignocellulosic network has been confirmed, reducing cellulose crystallinity, increasing cellulose accessibility and favoring the subsequent saccharification step. However, further research is required to ensure ionic liquid recovery, reduce costs, removing washing-steps, promote the use of non-hazardous ILs and continue studying application of emerging families of ionic liquids (e.g. biobased ionic liquids) and existing ones (e.g. protic ionic liquids)...
Description
Tesis de la Universidad Complutense de Madrid, Facultad de Ciencias Químicas, Departamento de Ingeniería Química y de Materiales, leída el 05-04-2019
Collections