Publication:
The stereographic projection in banach spaces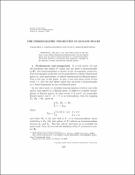 Advisors (or tutors)
Editors
Publisher
Rocky Mountain Mathematics Consortium
Abstract
We give a new and direct proof of the fact that, in any infinite dimensional Banach space, the unit sphere minus any one point is homeomorphic to a closed hyperplane. The proof involves L-structures and geometric concepts as, for instance, rotund, smooth and exposed points.
Citation
A. Aizpuru, Apuntes y notas de topología, Servicio de publicaciones de la Universidad de Cádiz, Cádiz, Spain, 1996. P. Bandyopadhyay and B. Lin, Some properties related to nested sequence of balls in Banach spaces, Taiwanese J.Math. 5 (2001), 19 34. J.W. Carlson and T.L. Hicks, A characterization of inner product spaces,Math. Japon. 23 (1978/79), 371 373. R.E. Megginson, An introduction to Banach space theory, Grad. Texts in Math., Springer-Verlag, New York, 1998.
Collections