Publication:
El Obispado y la Diócesis de Coria en la Edad Media (1142-1545): organización institucional y relaciones de poder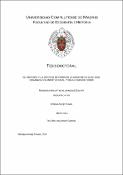 Files
Authors
Advisors (or tutors)
Editors
Publisher
Universidad Complutense de Madrid
Abstract
El Obispado y la Diócesis de Coria durante la Edad Media fue un territorio carente de ninguna investigación global en este periodo, y especialmente en el campo de la Historia dela Iglesia. Este ha sido el punto de partida para la presente Tesis Doctoral, profundizando en la investigación de la Historia de la Iglesia en la Edad Media mediante la búsqueda en los diferentes archivos vinculados a la presencia de información de obispos, canónigos y organización eclesiástica general en Coria. Los principales objetivos se centraron en realizar una reconstrucción historiográfica del espacio a investigar, reorganizar la historia de los obispos para la Edad Media, clarificando la sucesión de obispos y datos poco fiables, reconstruir la organización del cabildo de canónigos, la organización territorial y recursos básicos del obispo y del cabildo y, en último lugar, realizar un análisis de las relaciones de poder existentes con el entorno local, la Monarquía y el Papado...
The Bishopric and Diocesis of Coria during the Middle Ages has been an area without any global resarch in this period of time, and specially in the field of History of the Church.This is the starting point for the actual PhD, enlarging the investigation and knowledge of Spanish Middle Ages Church History by the research through the archives related to bishops, cannons and eclesiastical organisation in general. The main objetives will focus in making an overall reconstruction of the historiography about the territory as first introduction. Second aim is to reorganise partialy the bishop's history, paying special atention to clarifying the non confirmed information about different personalities from Middle Ages, whose information is uncertain or not sufficiently proven. The following step will be trying to rebuild the organisation of the cannons' chapter in its peculiarities and difficulties. The next section of the research is try to rebuild the means of survival of the cannons and bishop, as same as the territory occupied during Middle Ages time at least. Finally, the last goal is inserting the global ecclesiastic organisation of Coria along Middle Ages in its political context, taking as first circle of power the regional area, paying attention secondly to the connection to the monarchy and its power, and finally to the Papacy...
Description
Tesis inédita de la Universidad Complutense de Madrid, Facultad de Geografía e Historia, leída el 13-11-2020
Collections