Publication:
Los MOOCs en la enseñanza superior: una tarea pendiente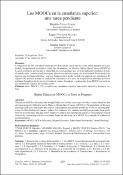 Advisors (or tutors)
Editors
Abstract
La llegada de las TIC a la educación ha puesto de moda un nuevo tipo de cursos online basados en la gratuidad y la apertura de contenidos a todo tipo de usuarios: los Massive Online Open Courses (MOOCs). La gran aceptación de esta nueva modalidad de enseñanza hace que las principales universidades de todo el mundo estén creando plataformas para ofrecer este tipo de cursos, sin la existencia de un modelo de negocio que los haga rentables y con una financiación a fondo perdido por parte de sus impulsores. El objetivo del presente trabajo es analizar las expectativas y el nivel de aceptación de este tipo de cursos mediante la realización de un experimento de campo, basado en la realización de un MOOC por parte de una muestra de alumnos de comunicación.
The advent of ICT to education has brought back into fashion a new type of online courses based on free and open access to all kind of users: Massive Online Open Courses (MOOCs). The popularity of this new teaching mode does that major universities and academic institutions around the world are creating platforms to offer this kind of courses, without the existence of a business model that can make them profitable by its promoters. The aim of this paper is to analyze the expectations and level of acceptance of such courses by conducting a field experiment, based on the study of a MOOC by a sample of students of communication.
Citation
ATKINS, Daniel; SEELY, John; HAMMON, Allen (2007): "A Review of the Open Educational Resources (OER) Movement: Achievements, Challenges, and New Opportunities". Report to The William and Flora Hewlett Foundation. Disponible en: www.hewlett.org/uploads/files/Hewlett_OER_report.pdf [30062014]. CARR, Nicholas (2012): "The crisis on Higher Education". MIT Technology Review, vol. 115, nº 6. CAVANAGH, Sean (2013): "MOOCs provider targets teacher education". Education Week, Mayo 2013. HYMAN, Paul (2012): "In the year of disruptive education". Communications of the ACM, vol. 55, nº12. KOLOVICH, Steve (2013): "The Professors Who Make the MOOCs". Disponible en http://chronicle.com/article/TheProfessorsBehindtheMOOC/137905/#id=overview [30062014]. LANE, Lisa (2012): "Three kinds of MOOCs". Disponible en: http://lisahistory.net/wordpress/2012/08/threekindsofmoocs/ LÓPEZ, Jorge (2012). MOOC: ¿Ocaso del modelo de negocio tradicional en elearning? Disponible en http://ojulearning.es/2012/08/moococasodelmodelodenegociotradicionalenelearning/[30062014]. MOOC.ES: "cMoox vs. XMooc". Disponible en http://www.mooc.es/cmooxvsxmooc/[30062014]. SEELY, John (2008): "Foreword: Creating a Culture of Learning". En: IIYOSHI, Toru and VIJAY KUMAR, M.S.: Opening Up Education: The Collective Advancement of Education Through Open Technology, Open Content, and Open Knowledge, Creative Commons edition. Princeton, New Jersey, Carnegie Foundation for the Advancement of Teaching. ZAPATAROS, Miguel (2013): "MOOCs, una visión crítica. El valor no está en el ejemplar". Disponible en http://eprints.rclis.org/18452/1/MOOC_critica_Elis.pdf[11062014].
Collections