Publication:
El papel de las imágenes de instagram en el desarrollo de la identidad en un grupo de adolescentes de la Comunidad de Madrid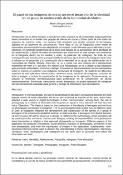 Authors
Advisors (or tutors)
Editors
Abstract
Introducción: En la última década, el uso de las redes sociales ha ido aumentado progresivamente hasta convertirse en el medio más popular de interacción social y formar parte de casi todos los aspectos de nuestras vidas. Los usuarios han adoptado una amplia variedad de tecnologías digitales en su repertorio de comunicación. Entre ellas, el uso de fotografías como medio de transmisión de información ha ido adquiriendo un rol igual o más relevante que el del texto y la voz. Objetivos: El contenido fundamental de la tesis está basado en la construcción de la identidad de los adolescentes; y dentro de todos los elementos que intervienen en este campo, nos centramos en la fotografía dentro de los medios y redes, en particular de Instagram. Se trata de una investigación que estudia cómo y en qué medida los distintos tipos de usos de Instagram repercuten e influyen en el desarrollo y la construcción de la identidad de un grupo de adolescentes de la Comunidad de Madrid. Método: Para ello, se va a contar con una muestra de 6 adolescentes madrileños de entre 14 y 18 años. En relación a la metodología, se va a utilizar la foto-elicitación para provocar comentarios, memoria y diálogo; evocando las representaciones de los participantes sobre sí mismos en relación a las imágenes personales de Instagram. Se analizan los diferentes aspectos de este aplicativo: interacciones, semiótica visual, narración de imágenes, conexión de texto e imagen, e incluso la organización de las imágenes en la aplicación. Posteriormente, se utilizará la entrevista semiestructurada para profundizar en la comprensión de dichas representaciones. Entrevistas, narraciones, textos, fotografías y la propia aplicación de Instagram son las herramientas utilizadas para generar y recoger la información que necesitamos.
Introduction: In the last decade, the use of social networks has been increasing to become the most popular means of social interaction and to be part of almost all aspects of our lives. Users have adopted a wide variety of digital technologies in their communication. Among them, the use of photography as a vehicle of information has acquired an equal or more relevant role than text and voice. Objectives: This thesis is based on the construction of the identity of teenagers and we focus on photography particularly in Instagram. This is an investigation that studies how the different types of uses of Instagram influence the development and construction of the identity in a group of teenagers in the Community of Madrid. Method: In order to do this, 6 teenagers from Madrid between 14 and 18 years old will be shown as a sample. In relation to the methodology, photo-elicitation will be used to provoke comments, memory and dialogue; evoking the representation of the participants about themselves in relation to their personal photography on Instagram. Different aspects of this application are analyzed: interactions, visual semiotics, narration of photographs, connection of text and photographs, and even the organization of images in the application. Subsequently, semi-structured interview will be used to deepen the understanding of these representations. Interviews, narrations, texts, photographs and Instagram are the tools used to generate and collect the information we need.
Citation
Arrazola, V. y Marcos, M.C. (2014). Fotografía de prensa y redes sociales: la técnica de Eye Tracking. Ámbitos, Revista Internacional de Comunicación, 27. Recuperado de http://ambitoscomunicacion.com/2015/fotografia-de-prensa-y-redes-sociales-la-tecnica-de-eye-tracking/ Blázquez Entonado, F. (2001). Sociedad de la información y educación. Mérida: Consejería de Educación, Ciencia y Tecnología, junta de Extremadura. Freire, G. (2004). Do Instantâneo aos Filtros: A Estética Fotográfica do Instagram, 1 Ano X, n. 05. Lisboa Recuperado de http://periodicos.ufpb.br/ojs2/index.php/tematica Fumero, A. y Espiritusanto, O. (2012). Jóvenes e infotecnologías: entre nativ@s y digitales. Madrid: Instituto de la juventud. Recuperado de http://www.injuve.es/sites/default/files/Jovenes%20e%20infotecnologias.pdf Giones, A. y Serrat i Brustenga, M. (2010). La gestión de la identidad digital: una nueva habilidad informacional y digital. BiD: textos universitaris de biblioteconomia i documentació, núm. 24. Recuperado de http://bid.ub.edu/24/giones2.htm González, P. (2017). Instagram mucho más que fotos, España: Anaya multimedia. Hine, Ch. (2004). Etnografía virtual. Barcelona: Editorial UOC. Instituto de Historia (IH). Centro de Ciencias Humanas y Sociales. Gobierno de España: Ministerio de Economía, Industria y Competividad. Recuperado de http://cchs.csic.es/es/research-line/cultura-visual Lasén,A, y Gómez- Cruz, E. (2009). Digital Photography and Picture Sharing: Redefining theBPublic/ private Divide. Knowledge, Technology & Policy 22(3): 205– 15. Livingstone, S. (2008). Taking risky opportunities in youthful content creation: teenagers' use of social networking sites for intimacy, privacy and self-expression. New Media and Society 10: 393–411 n., 10 (3). Martín Laborda, R. (2005). Las nuevas tecnologías en la educación. Cuadernos/Sociedad de la información, nº 5. Fundación AUNA. Recuperado de http://www.telecentros.info/pdfs/05_06_05_tec_edu.pdf Foresight Future Identities (2013) Final Project Report. The Government Office for Science, London. Recuperado de https://assets.publishing.service.gov.uk/government/uploads/system/uploads/attachment_data/file/273966/13-523-future-identities-changing-identities-report.pdf Miller, D., Costa, E., Haynes, N., McDonald, T., Nicolescu, R., Sinanan, J., . . . Wang, X. (2016). How the World Changed Social Media. London: UCL Press. Recuperado de http://www.jstor.org/stable/j.ctt1g69z35 Mirzoeff, N. (2003) Una Introducción a la Cultura Visual. Barcelona: Paidos. Pindado, J. (2005). "Los medios de comunicación y la construcción de la identidad adolescente". Zer, 21, pp.: 11-22. http://www.ehu.es/zer/zer21/zer21_5_pindado.pdf Rogoff, I. (1998). Studying visual culture, chapter 2. Ed. The Visual Culture Reader. London: Routledge, pp. 24-36. Recuperado de http://www9.georgetown.edu/faculty/irvinem/theory/Rogoff-StudyingVisualCulture.pdf Stake, R.E. (1989) Investigación con estudio de casos. Madrid: Ediciones Morata. Subrahmanyan, K. y Greenfield, P. (2008). Online Communication and Adolescent Relationships". Journal Children and Electronic Media, 18(1), pp.: 119-146. Winocur, R. (2012). Transformaciones en el espacio público y privado. La intimidad de los jóvenes en las redes sociales. Revista TELOS, 91, 7-27. Recuperado de http://telos.fundaciontelefonica.com/seccion=1268&idioma=es_ES&id=2012042611530001&activo=6.do Wood, A. F. y Smith, M. J. (2005). Forming online identities. En: Wood, A. F. y Smith, M. J. Online communication: linking technology, idenity, and culture. Mahwah, N. J.: L. Erlbaum, p. 51–75. Zhao et al. (2008). Identity construction on Facebook: digital empowerment in anchored relationships. Computers in human behavior, vol. 24, p. 1816–1836.