Publication:
Democratización en Oriente Medio. El caso de Egipto, actores y dinámicas (2005-2013)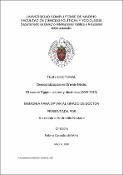 Authors
Advisors (or tutors)
Editors
Publisher
Universidad Complutense de Madrid
Abstract
La principal motivación de esta investigación derive de la importancia de la región de MENAy la inmunidad de los países arabo-musulmanes a los procesos de democratización, una tesis debatida académicamente y políticamente. Los levantamientos árabes y la caída de varios regímenes autoritarios revelaron una diversa realidad que debe ser estudiada con una mirada analítica en el contexto histórico y geopolítico. En la primera parte de la tesis se considera fundamental analizar tanto los actores y elementos que configuraron al mundo árabe y han impedido una transición democrática en los países arabo-musulmanes como los desafíos de construir sociedades democráticas que compatibilizan con el Islam a través de largos procesos de transición. La segunda parte, aborda un caso concreto, el de Egipto. Analizamos por un lado las dinámicas de su sistema semiautoritario que generó desafíos y oportunidades para la democracia, y por el otro lado la transición egipcia.En la presente investigación emplearemos varios métodos. Manejaremos una serie de datos cuantitativos y cualitativos. Construiremos el enfoque a través de los modelos ofrecidos por teóricos de política comparada como O'Donnell y Schmitter, Przeworski, Tarrow y Tilly,utilizando como principales herramientas metodológicas el método inductivo y método analítico...
My main motivation is the importance of the MENA region and the immunity of the Arab-Muslim countries to the democratization processes, a thesis debated by many. The Arabuprisings and the fall of several authoritarian regimes revealed a different reality that must bestudied with an analytical look in the historical and geopolitical context. In the first part ofthe thesis it is considered fundamental to analyze both the actors and elements that shaped theArab world and have prevented a democratic transition in Arab-Muslim countries as well asthe challenges of building democratic societies that are compatible with Islam through longprocesses of Transition. The second part deals with a specific case, Egypt. On one hand, weanalyze the dynamics of its semi-authoritarian system that created challenges andopportunities for democracy and on the other hand, the Egyptian transition.In the present investigation we will use several methods and we will handle a series ofquantitative and qualitative data. We will build our approach through models offered bycomparative policy theorists such as O'Donnell and Schmitter, Przeworski, Tarrow, andTilly. Our main methodological tools will be the inductive method and the analytical method...
Description
Tesis de la Universidad Complutense de Madrid, Facultad de Ciencias Políticas y Sociología, Departamento de Derecho Internacional Público y Relaciones Internacionales, leída el 23-06-2017
Collections