Publication:
Análisis del plan nacional de formación de empleados públicos para el desarrollo de competencias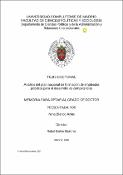 Files
Authors
Advisors (or tutors)
Editors
Publisher
Universidad Complutense de Madrid
Abstract
La investigación contenida en la presente tesis tiene por objeto la realización del análisis de diseño al Plan Nacional de Formación y Capacitación de Empleados Públicos para el Desarrollo de Competencias (en adelante PNF) creado para la administración pública colombiana en 2007. El PNF fue adoptado a través del Decreto 4665 de 2007 y fue actualizado en el 2010, esta última versión es el objeto del análisis propuesto.El estudio de caso propuesto se ha enfocado en datos proporcionados por las Contralorías Territoriales de Colombia y las entidades del marco institucional como la Contraloría General de la República y la Auditoría General de la República. Todas estas entidades que ejercen el control fiscal en Colombia.El estudio de la política de formación de empleados públicos ha sido orientado a través de los elementos establecidos por el enfoque cíclico de análisis de las políticas públicas. Se han adoptado los siguiente elementos para la estructuración del análisis: el estudio del proceso de formulación del problema público y la definición de objetivos, estrategias y acciones previstas en el PNF para dar paso al análisis de coherencia.El PNF ha sido analizado en el contexto de la política de modernización del Estado y la gerencia de recursos humanos en el sector público. Se ha realizado una interpretación del PNF como parte integral de proceso de modernización de la administración pública. Sumado a la determinación de los conceptos más importantes a tener en cuenta en las políticas de formación como instrumento de cambio en la gestión pública y su relación con la calidad en los servicios públicos; así como, la orientación a resultados en reconocimiento de la ciudadanía como principal destinatario de la acción pública...
The research contained in this thesis aims at the design analysis of the National Training and Training Plan for Public Employees for the Development of Competencies (hereinafter PNF) created for the Colombian public administration in 2007. The PNF was adopted through Decree 4665 of 2007 and was updated in 2010; this latest version is the object of the proposed analysis.The proposed case study has focused on data provided by the Colombia territorial comptrollers and entities of the institutional framework such as the Office of the Comptroller General of the Republic and the General Audit of the Republic. All these entities develop fiscal control in Colombia.The policy of training public employees study has been guided by the elements established by the cyclical approach to public policy analysis. The following elements have been adopted for structuring the analysis: the study of the formulating process of the public problem and the objectives definition, strategies and actions foreseen in the PNF to give way to the coherence analysis.The PNF has been analyzed in the context of the modernization policy and the human resources management in the public sector. The interpretation of the PNF has been made as an integral part of the modernization process of the public administration. Added to the determination of the most important concepts to be taken into account in training policy as an instrument of change in public management and its relationship with public services quality; As well as the orientation to results in recognition of the citizenship as main target of the public action...
Description
Tesis de la Universidad Complutense de Madrid, Facultad de Ciencias Políticas y Sociología, Departamento de Ciencias Políticas y de la Administración y Relaciones Internacionales, leída el 19-09-2017
Collections