Publication:
"The turn of the screw" de Henry James. Análisis de su adaptación cinematográfica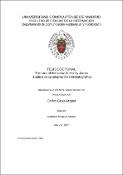 Files
Authors
Advisors (or tutors)
Editors
Publisher
Universidad Complutense de Madrid
Abstract
El relato literario de Henry James The Turn of the Screw está considerado una obra maestra en la literatura de terror gótico y es un clásico literario. Es lógico que una obra de tal notoriedad de lugar a distintas adaptaciones cinematográficas, lo que no resulta tan normal es que su primera adaptación cinematográfica se convierta en un nuevo clásico, esta vez del cine. Eso es precisamente lo que ocurrió en 1961 con The Innocents de Jack Clayton. La fascinación por estas dos obras y su relación de fidelidad e independencia es lo que ha motivado principalmente la realización de este estudio sobre las adaptaciones de la obra de Henry James. Esta relación entre ambos universos creativos me ha resultado siempre muy atractiva, tanto como espectador/lector como en el campo de la creación audiovisual y literaria. Los problemas que existen en el proceso de adaptación/transposición del género literario al cinematográfico abocan a gran parte de las adaptaciones cinematográficas de un clásico literario al fracaso, si no comercial, si en cuanto al nivel artístico alcanzado. El hecho de que The Innocents se haya constituido en un nuevo referente no ha impedido que se sigan haciendo adaptaciones de The Turn of the Screw, tal es el magnetismo alcanzado por la obra de Henry James, sin embargo los resultados de las mismas no han podido emular a ninguna de las obras citadas anteriormente...
The literary story by Henry James The turn of the screw is considered to be a masterpiece in the literature of gothic horror and it's a literary classic. It's logical that a work of such fame allows for so many cinematographic adaptations. What is not so normal is that it́s first cinematographic adaptation has become in its own way a new classic, this time in cinema. This is exactly what happened in 1961 with The Innocents by Jack Clayton. The fascination for these two works and their relation of fidelity and independence is what has principally motivated the production of this study on the adaptations of the work of Henry James. This relation between both creative universes has always seemed very attractive to me as a spectator/reader in the field of audiovisual and literary creation. The problems which exist in the process of adaptation/transfer of the literary genre to the cinematographic almost always lead to failure of cinematographic adaptations of a literary classic, if not in a commercial sense then in terms of the artistic level achieved. The fact that The Innocents has become a new reference has not stood in the way of new adaptations of The turn of the screw being made as a result of the enormous magnetism obtained by the work of Henry James. However the results of the same have never been able to emulate any of the works cited before...
Description
NOTA 502 Tesis inédita de la Universidad Complutense de Madrid, Facultad de Ciencias de la Información, Departamento de Comunicación Audiovisual y Publicidad I, leída el 19-01-2016
Collections