Publication:
Aproha, historia y perspectivas de una asociación necesaria en la Historia del Arte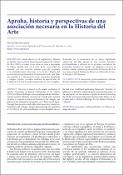 Authors
Advisors (or tutors)
Editors
Publisher
Grupo Español de Conservación del International Institute for Conservation, Asociación de Conservadores Restauradores de España
Abstract
Este trabajo ahonda en el surgimiento e historia de Aproha, Asociación de Profesionales Española de Historia del Arte (2015), así como en sus retos, acciones y propuestas de futuro. Aproha nace en el seno de la Universidad de Granada con una vocación nacional para dar respuesta a las reivindicaciones históricas en la lucha y defensa del reconocimiento profesional de los historiadores del arte. Bajo este espíritu, y a diferencia de otras tendencias asociativas y colegios, Aproha reivindica mediante la especificidad de la Historia del Arte la profesionalización de esta disciplina, denostada por la inexistencia de un marco legitimador establecido. Por ello, además de una vertiente formativa profesionalizante y difusora de las premisas asociativas, las principales acciones de Aproha van dirigidas a revertir la pésima e injusta situación profesional de la Historia del Arte en campos como el Patrimonio Histórico, el Mercado de Arte, el Turismo o el Urbanismo.
This essay is focused on the origins and history of Aproha, Association of Spanish Professionals of Art History (2015), as well as its challenges, actions and proposals for the future. Aproha was born within the University of Granada with a national vocation to respond to historical demands in the struggle and defense of the professional recognition of art historians in Spain. hrough these premises, and unlike other associative tendencies, Institutions and Colleges, Aproha claims through the speciicity of Art History the professionalization of this discipline, due to the lack of an established legitimating framework. herefore, in addition to a formative and professional disseminating aspect of the association, the main actions of Aproha are aimed at reversing the terrible and unjust professional situation of the History of Art in ields such as Historical Heritage, the Art Market, Tourism or Urbanism.
Collections