Publication:
Sistema de control de aforo en espacios cerrados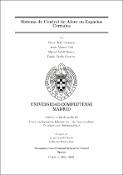 Advisors (or tutors)
Editors
Abstract
A día de hoy la población humana se ve en un creciente aumento, esto junto a la situación actual de pandemia propiciada por la COVID-19, ha hecho que sea necesario aumentar los controles de aforo en los diferentes espacios ya sean públicos o privados. Hasta ahora, se han visto diferentes sistemas que permiten controlar la cantidad de personas que hay en un espacio, desde un control manual con una persona en la puerta encargada de contabilizar las entradas y salidas, hasta aplicaciones complejas que se encargan de contar automáticamente. En este proyecto se va a proporcionar una solución de bajo coste que sea capaz de cumplir este objetivo. Para ello, se van a emplear diferentes opciones que otorgan una medida más o menos precisa. Las soluciones se basan en el uso de sensores infrarrojos o de sensores de ultrasonido, que si bien, nos permiten controlar la cantidad de personas que entran y salen, el resultado que nos dan es aproximado, y en el uso de inteligencia artificial, para a través de una cámara que capta imágenes en el momento, poder detectar a las personas y hacer un seguimiento a lo largo del entorno. Todos los datos recopilados se enviarán en tiempo real mediante el uso del Internet of Things (IoT) y llegarán a una aplicación web que servirá como interfaz de usuario para que estos puedan acceder a los datos de una manera más amigable.
Nowadays, the human population is suffering an increasement, alongside the actual situation caused by the COVID-19 pandemic, has made it necessary to increase the occupancy controls in different places, wether public or private. Untill now, different systems that allow controlling the number of people inside an enclosure have been seen, from a manual control with someone at the door in charge of counting the entrances and exits of people, to complex applications that automate this task. The aim of this project is to provide a low-cost solution capable of accomplishing this objective. To make it possible, different options will be used in order to supply a nearly precise measurement. This solutions are based on the use of sensors such as infrared or ultrasonic, wich although allow us to control the people entering and leaving, their results are approximate; while using an artificial inteligence, through a camera that caputures real time images, is able to detect and track people throughout the environment. All collected data will be sent in real time using IoT, and will arrive to a web application that will serve as a user interface, so they could be accessed in a friendlier way.
Description
Trabajo de Fin de Grado en Ingeniería Informática y en Ingeniería de Computadores, Facultad de Informática UCM, Departamento de Arquitectura de Computadores y Automática, Curso 2020/2021, el código de cada uno de los programas desarrollados para las diferentes aplicaciones que componen este proyecto se encuentra alojado en el siguiente repositorio de GitHub: https://github.com/martellucm/TFG-Occupancy-2020-21.