Publication:
La escultura religiosa de madera policromada y lacada en Extremo Oriente: técnica y conservación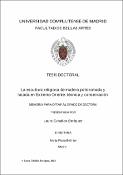 Authors
Advisors (or tutors)
Editors
Publisher
Universidad Complutense de Madrid
Abstract
La investigación tiene como finalidad el estudio de la conservación de escultura de madera policromada de Asia oriental, delimitado a China, Vietnam y Japón por ser los países de origen del conjunto de quince esculturas del Museo Nacional de Artes Decorativas (MNAD) que han sido trasladadas al Instituto del Patrimonio Cultural de España (IPCE) para su conservación y restauración. La intervención sobre estas piezas ha servido como eje vertebrador de la investigación gracias a la necesidad de buscar información material y documental que pudiera sostener una propuesta de conservación argumentada. El estudio de las obras ha posibilitado descubrir la procedencia vietnamita de diez de las quince esculturas que fueron recogidas durante la guerra de la Cochinchina entre los años 1858 a 1862.En el presente trabajo se definen los rasgos característicos de las obras asiáticas que difieren de la producción europea, realizando un estudio comparativo y formal que explora las variaciones en cuanto a técnica y significado a través del tiempo. El examen del contexto histórico, filosófico y religioso a partir del cual surgen iconografías nos ha permitido destacar tres corrientes: confucionismo, taoísmo y budismo, que evolucionan hacia diferentes configuraciones de sincretismo o religión popular que incorpora elementos autóctonos. Igualmente, hemos podido indagar en las circunstancias en las que trabajaban los escultores y cómo eran considerados dentro de la sociedad de cada país, así como estudiar los ritos religiosos que van asociados a la fabricación de las esculturas y que les proporcionan un valor inmaterial adicional. Dicho análisis nos ha permitido encontrar similitudes y coincidencias entre los ritos descritos por los antropólogos y los vestigios hallados en las obras del MNAD...
The aim of the research is to study the conservation of polychrome wood sculpture from East Asia, limited to China, Vietnam and Japan as the countries of origin of the group of fifteen sculptures from the Museo Nacional de Artes Decorativas (MNAD) that have been transferred to the Instituto del Patrimonio Cultural de España (IPCE) for their conservation and restoration. The intervention on these pieces has served as the backbone of the research thanks to the need to seek material and documentary information that could support a well-founded conservation proposal. The study of the works has made it possible to discover the Vietnamese provenance of ten of the fifteen sculptures that were collected during the Cochinchina War between 1858 and 1862.The characteristic features of the Asian works that differ from European production are defined, with a comparative and formal study exploring variations in technique and meaning over time. The historical, philosophical and religious context from which iconographies emerge is summarised, highlighting three currents: Confucianism, Taoism and Buddhism, which evolve into different configurations of syncretism or popular religion incorporating indigenous elements. The circumstances in which the sculptors worked and how they were regarded within the society of each country are explored, as well as the religious rites associated with the making of the sculptures, which give them an additional intangible value. Similarities and coincidences have been found between the rites described by anthropologists and the remains found in the MNAD works...
Description
Tesis inédita de la Universidad Complutense de Madrid, Facultad de Bellas Artes, leída el 11-05-2022
Collections