Publication:
Enterococcus, Salmonella y H₂S. Control remoto de la resistencia a antibióticos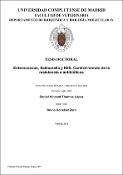 Files
Authors
Advisors (or tutors)
Editors
Publisher
Universidad Complutense de Madrid
Abstract
Enterococcus faecalis y Enterococcus faecium son dos de los principales patógenos nosocomiales a nivel mundial, ocasionando cuadros de endocarditis, infecciones urinarias y septicemias. Esto se debe, entre otras razones, a su elevada resistencia a condiciones adversas del medio y a multitud de antibióticos. Entre los mecanismos que presentan los enterococos para resistir a los antimicrobianos, el de mayor trascendencia clínica es su resistencia intrínseca a las cefalosporinas (un valioso grupo de antibióticos perteneciente a la familia de los beta-lactámicos), lo que limita las opciones terapéuticas disponibles para combatir las infecciones provocadas por estas especies. En la presente Tesis Doctoral, hemos descubierto un fenómeno capaz de anular la resistencia intrínseca de Enterococcus, volviéndole susceptible a la acción de las cefalosporinas. Esto ocurre cuando los enterococos son expuestos a la presencia del ácido sulfhídrico, abreviado como H₂S. Este gas, considerado durante siglos como un metabolito celular de desecho, está reconocido actualmente como un gasotransmisor de gran importancia, regulando diferentes procesos fisiológicos y patológicos en Eucariotas así como en Procariotas. Profundizando en nuestro trabajo, hemos encontrado que la resistencia a las cefalosporinas de Enterococcus no solo se revierte al añadir H₂S al medio, sino que el mismo resultado tiene lugar cuando el H₂S es producido y excretado por otra bacteria, incluso aunque ambas especies se sitúen físicamente separadas entre sí. Por tanto, esta Tesis presenta avances importantes en dos temas. Por un lado, el hecho de que Enterococcus sea susceptible a la combinación de las cefalosporinas con el H₂S abre la puerta al diseño de futuras alternativas terapéuticas frente a patógenos multirresistentes. Por otro lado, hasta donde sabemos es la primera vez que se describe la capacidadde una bacteria para producir, a distancia, un efecto con consecuencias letales sobre otra bacteria, resultado sorprendente, una vez más, la complejidad del mundo bacteriano.
Enterococcus faecalis and Enterococcus faecium are among the most significant hospital pathogens globally, producing life threatening endocarditis, urinary tract infections and septicemia. This is due, among other reasons, to their high-level of resilience to adverse environmental conditions, and to their resistance to a wide range of antibiotics. Of all the antimicrobial resistance mechanisms harbored by enterococci, their intrinsic resistance to cephalosporins (an invaluable group of antibiotics within β- lactams family) is the most troubling from a clinical perspective, as it leads to a substantial reduction of the treatment options available for fighting enterococcal infections. In this Thesis, we have discovered a phenomenon that abolishes Enterococcus resistance, making them susceptible to cephalosporin activity. This sensitization occurs when enterococi are exposed to the gas hydrogen sulfide (H₂S. This gas, which has been considered a mere cell by-product for centuries, is now recognized as a highly relevant gasotransmitter, involved in various physiological and pathological processes, both in Eukaryotes and Prokaryotes. Furthermore, in our work we have revealed that, enterococci do not only become susceptible to cephalosporins when H₂S is in the media, but the same phenotype is observed when the H₂S is produced by another bacterium, even if both species arephysically separated one from the other. Thus, this Thesis constitutes a significant progress in two different fields. On the one hand, the fact that Enterococcus becomes susceptible to the combination of cephalosporins and H₂S opens the door for the development of future therapeutic alternatives against multidrug resistant pathogens. On the other hand, to the best of our knowledge, this is the first description of a bacterium remotely producing an effect with lethal consequences on another species, demonstrating, once again, the immense complexity of the microbial world.
Description
Tesis de la Universidad Complutense de Madrid, Facultad de Veterinaria, Departamento de Bioquímica y Biología Molecular IV, leída el 29/05/2017
Collections