Publication:
Brain complications from odontogenic infections: A systematic review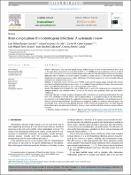 Advisors (or tutors)
Editors
Abstract
Purpose: Odontogenic infections can spread through different routes to more remote anatomical areas, such as the brain. Brain abscesses have an incidence of 0.3−1.3 / 100,000 population and only 2−5% are of dental origin. The main objective is to research brain complications derived from odontogenic infections. Secondary objectives were to identify the most common symptoms in brain abscess, to describe the microbiology involved in these infectious processes, report which parts of the brain complex are most commonly affected and report the sequelae of this patients. Methods: A systematic review following the PRISMA Guide and the Joanna Briggs Institute (JBI) Critical Appraisal Checklist for Case Reports was carried out in PubMed, Scopus and Web of Science. The search terms were: Brain infection, brain abscess, oral health oral origin, odont* infect*. Results: The database search identified a total of 1000 articles. A total of 18 publications were identified after applying inclusion and exclusion criteria. A total of 38 patients were analyzed. Mean age was 49.64§ 18.80 years. Conclusion: The most common symptoms of patients with brain abscess are neurological affectations first and then fever and headache second, without necessarily presenting as a symptomatological triad. Microbiological diagnosis is key to determining the origin of the infection. Anaerobic pathogens such as Streptococcus (F. Milleri), Fusobacterium Nucleatum and Porfiromonas Gingivalis families are common bacterial agents. The frontal lobe is the most frequently affected, followed by the parietal and temporal lobe. The most frequent brain complications are neurological disorders. However, most patients with brain abscesses recover without sequelae.
Description
CRUE-CSIC (Acuerdos Transformativos 2022)
Collections