Publication:
Molecular characterization of the MgaSpn transcriptional regulator of "Streptcoccus neumoniae"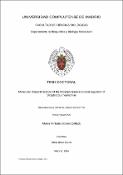 Authors
Advisors (or tutors)
Editors
Publisher
Universidad Complutense de Madrid
Abstract
La bacteria Gram-positiva Streptococcus pneumoniae reside como comensal en el tracto naso-faríngeo de individuos sanos, pudiendo producir infecciones severas cuando el sistema inmune se debilita. Esta Tesis se ha centrado en la caracterización molecular de la proteína MgaSpn, un regulador transcripcional de la familia Mga/AtxA implicado en la virulencia de neumococo. El gen mgaSpn se transcribe in vivo a partir del promotor Pmga, reconocido in vitro por el factor 43 de neumococo. Adyacente al gen mgaSpn, en la cadena complementaria, se encuentra el operón spr1623-spr1626, cuya transcripción está dirigida in vivo por dos promotores (P1623A y P1623B). La proteína MgaSpn actúa, de forma directa, como activador del promotor P1623B in vivo. Esta activación requiere la interacción de MgaSpn con una región de 70-pb, localizada entre los promotores divergentes P1623B y Pmga. MgaSpn presenta un alto contenido en -hélices y se comporta como un dímero en solución, aunque tiende a formar especies de mayor masa molecular en función de la concentración. Respecto a la organización de dominios funcionales, MgaSpn presenta dos motivos de unión a DNA (HTH) en la región N-terminal, un dominio PRD central y un motivo tipo-EIIB en la región C-terminal. La proteína MgaSpn se une a DNA lineal de cadena doble con alta afinidad pero baja especificidad de secuencia. Los resultados obtenidos en este trabajo sugieren que conformaciones locales en el DNA (como curvatura intrínseca) podrían contribuir al reconocimiento específico de una región determinada del DNA por MgaSpn. Además, tras unirse al sitio primario, MgaSpn es capaz de extenderse a lo largo de las regiones de DNA adyacentes, generando complejos proteína-DNA multiméricos, característica que no ha sido descrita en otros reguladores de la familia Mga/AtxA. Este trabajo ha contribuido a ampliar el conocimiento que se tenía de MgaSpn como regulador de genes asociados a la virulencia de neumococo.
The Gram-positive bacterium Streptococcus pneumoniae is a member of the normal human nasopharyngeal flora. However, when the immune system weakens it can cause a broad spectrum of diseases. This Thesis is focused on the molecular characterization of the transcriptional regulator MgaSpn, which was previously associated with virulence. It is a member of the Mga/AtxA family of global regulators. The mgaSpn gene is transcribed in vivo from the Pmga promoter, which is recognized in vitro by the pneumococcal 43 factor. The mgaSpn gene is adjacent to a four-gene operon (spr1623-spr1626), which is transcribed in vivo from two promoters (P1623A and P1623B). MgaSpn acts directly as a positive regulator of the P1623B promoter, and therefore, it activates the transcription of the operon. This activation requires binding of MgaSpn to a 70-bp region located between the P1623B and the Pmga divergent promoters. MgaSpn has a high content of -hélices. In solution, and under the experimental conditions tested, MgaSpn forms dimers, although it tends to form higher-order molecular species as its concentration increases. Related to its domain organization, it presents two putative DNA-binding motifs (HTH) at the N-terminal region, a central PRD domain and an EIIB-like motif at the C-terminal region. The MgaSpn protein binds to linear double-stranded DNA with high affinity but low sequence specificity. The results obtained in this work suggest that local DNA conformations (e.g. intrinsic curvature) might contribute to the DNA binding specificity of MgaSpn. Moreover, upon binding to its primary site, MgaSpn is able to spread along the adjacent DNA regions generating multimeric protein-DNA complexes, a feature that has not been described for other members of the Mga/AtxA family of global regulators.This work has contributed to increase the knowledge of the pneumococcal MgaSpn virulence regulator.
Description
Tesis inédita de la Universidad Complutense de Madrid, Facultad de Ciencias Biológicas, Departamento de Bioquímica y Biología Molecular I, leída el 25-04-2014
Collections