Publication:
La miel en el tratamiento local de úlceras de pie diabético: revisión bibliográfica narrativa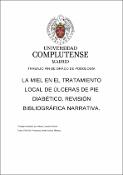 Authors
Advisors (or tutors)
Editors
Abstract
Las úlceras de pie diabético (UPDs) son la complicación más frecuente en pacientes diabéticos, estas suponen un alto riesgo en concluir con amputaciones no traumáticas de la extremidad inferior, que a su vez suponen un aumento en la tasa de mortalidad en este tipo de pacientes. El temprano y correcto abordaje de las UPDs es clave en evitar al máximo las complicaciones, el tratamiento local con miel se ha aplicado desde hace siglos, siendo de gran ayuda en la cicatrización de heridas. En esta revisión bibliográfica narrativa, se pretende revisar las propiedades terapéuticas de la miel aplicadas al tratamiento local de UPDs. Existen diferentes tipos de apósitos con miel que pueden ser utilizados, en general, sus propiedades terapéuticas se basan en una acción antibacteriana, antiinflamatoria y cicatrizante, además de favorecer el desbridamiento autolítico. Los criterios de aplicación son amplios, y proporcionan un tratamiento seguro. Se ha demostrado que la miel es un tratamiento eficaz de amplio espectro contra bacterias causantes de las infecciones en UPDs, varias bacterias resistentes a los antibióticos y biofilms. En cuanto a la evidencia sobre su uso en UPDs, es baja en estos últimos 5 años, y se necesitarían más estudios para evaluar su eficacia y eficiencia como tratamiento local en UPDs.
Diabetic foot ulcers (DFUs) are the most common complication in diabetic patients and pose a high risk for non-traumatic lower limb amputations, which in turn increase the mortality rate in these patients. Early and correct management of DFUs is key in avoiding complications as much as possible, local treatment with honey has been applied for centuries and has been of great help in wound healing. In this narrative literature review, we aim to review the therapeutic properties of honey as applied to the local treatment of DFUs. There are different types of honey dressings that can be used, in general, their therapeutic properties are based on antibacterial, anti-inflammatory and healing action, as well as favouring autolytic debridement. The application criteria are broad and provide a safe treatment. Honey has been shown to be an effective broad-spectrum treatment against infection-causing bacteria in DFUs, various antibiotic-resistant bacteria and biofilms. Evidence for its use in DFUs is low in the last 5 years, and more studies would be needed to evaluate its efficacy and efficiency as a local treatment in DFUs.
Citation
1. American Diabetes Association. Diagnosis and classification of diabetes mellitus. Diabetes Care. [Internet]. 2014. [cited 2021 Feb 14]; 37(Suppl 1): S81-90. Availabe from: https://www.ncbi.nlm.nih.gov/pubmed/24357215 2. Alberti KGMM, Zimmet PZ. Definition, diagnosis and classification of diabetes mellitus and its complications. Part 1: diagnosis and classification of diabetes mellitus provisional report of a WHO consultation. Diabet Med. [Internet]. 1998; [cited 2021 Feb 17]; 15(7):539–53. Available from: https://pubmed.ncbi.nlm.nih.gov/9686693 3. Forbes JM, Cooper ME. Mechanisms of diabetic complications. Physiol Rev. [Internet]. 2013. [cited 2021 Feb 16]; 93(1):137‐188. Available from: https://pubmed.ncbi.nlm.nih.gov/23303908 4. Deshpande AD, Harris-Hayes M, Schootman M. Anjali. Epidemiology of Diabetes and Diabetes-Related Complications. American Phys Ther. [Internet]. 2008;[cited 2021 Feb 15]; 88:11. Availabe from: https://pubmed.ncbi.nlm.nih.gov/18801858 5. Armstrong DG, Boulton Andrew JM, Bus SA. Diabetic Foot Ulcers and Their Recurrence. N Engl J Med [Internet]. 2017 Jun [cited 2021 Feb 28]; 15;376(24):2367-2375. Availabe from: https://pubmed.ncbi.nlm.nih.gov/28614678 6. Armstrong DG, Swerdlow MA, Armstrong AA, Conte MS, Padula WV, Bus SA. Five year mortality and direct costs of care for people with diabetic foot complications are comparable to cancer. J Foot Ankle Res. [Internet]. 2020 Mar [cited 2021 Feb 28]; 24;13(1):16. Available from: https://pubmed.ncbi.nlm.nih.gov/32209136 7. Volmer-Thole M, Lobmann R. Neuropathy and Diabetic Foot Syndrome. Int J Mol Sci. [Internet]. 2016 Jun [cited Feb 16]; 10;17(6):917. Availabe from: https://pubmed.ncbi.nlm.nih.gov/27294922 8. Nicolaas C. Schaper Jaap J. van Netten Jan Apelqvist Sicco A. Bus Robert J. Hinchliffe Benjamin A. Lipsky IWGDF Editorial Board. Guías del IWGDF para la prevención y el manejo de la enfermedad de pie diabético. D-Foot international. [Internet]. 2019; [citado 2021 Feb 27]; Disponible en: https://iwgdfguidelines.org/wp content/uploads/2020/03/IWGDF Guidelines�2019_Spanish.pdf 9. Eleftheriadou I, Kokkinos A, Liatis S, Makrilakis K, Tentolouris N, Tentolouris A, Tsapogas P. Atlas of the Diabetic Foot. Newark: John Wiley & Sons, Incorporated; 2019. 10. Nigi L, Fondelli C, de Donato G, Palasciano G, Setacci C, Dotta F. Fighting diabetic foot ulcers-The diabetologist: A king maker of the fight. Semin Vasc Surg. [Internet]. 2018 Jun-Dec [cited 2021 Feb 17]; 31(2-4):49-55. Available from: https://pubmed.ncbi.nlm.nih.gov/30876641 11. Lázaro Martínez JL, García Álvarez Y, Tardáguila-García A, García Morales E. Optimal management of diabetic foot osteomyelitis: challenges and solutions. Diabetes, Metabolic Syndrome and Obesity. [Internet]. 2019; [cited 2021 Feb 27]; 12:947-959. Availabe from: https://pubmed.ncbi.nlm.nih.gov/31417295 12. Edmonds ME, Foster AVM, Foster AVM. Managing the Diabetic Foot. [Internet] Hoboken: John Wiley & Sons, Incorporated; 2014; [cited 2021 Feb 17]; p 71- 77; p 92-108. Available from: https://onlinelibrary.wiley.com/doi/book/10.1002/9780470751527 13. Frykberg RG, Zgonis T, Armstrong DG, Driver VR, Giurini JM, Kravitz SR, et al. Diabetic Foot Disorders: A Clinical Practice Guideline (2006 Revision). J Foot Ankle Surg. [Internet]. 2006; [cited 2021 Feb 18]; 45(5): S1-S66. Disponible en: https://www.ncbi.nlm.nih.gov/pubmed/17280936 14. Roldán Valenzuela A, Pérez Barreno D, Ibáñez Clemente P, Navarro Caballero MA, Alba Moratilla C, Esparza Imas G, et al. Consenso sobre Úlceras Vasculares y Pie Diabético de la Asociación Española de Enfermería Vascular y Heridas. [Internet]. Asociación española de enfermería vascular y heridas. 2017; 3ª edición. [Citado 2021 Feb 20]; Disponible en: https://www.aeev.net/pdf/Guia-de-Practica-Clinica-web.pdf 15. Lázaro Martínez JL, Álvaro-Afonso FJ, Ahluwalia R, Baker N, Ríos-Ruh JM, Rivera-San Martin G, Van Acker, K. Debridement and the Diabetic Foot. D�Foot international. [Internet]. 2019; [cited 2021 Feb 28]; Available from: https://www.d-foot.org/images/Debridement.pdf 16. Saikaly SK, Khachemoune A. Honey and Wound Healing: An Update. Am J Clin Dermatol. [Internet]. 2017; [cited 2021 Feb 24]; Apr;18(2):237-251. Available from: https://pubmed.ncbi.nlm.nih.gov/28063093 17. Yilmaz AC, Aygin D. Honey dressing in wound treatment: a systematic review. Complement Ther Med. [Internet]. 2020; [cited 2021 Mar 5]; Jun; 51:102388. Available from: https://pubmed.ncbi.nlm.nih.gov/32507418 18. Cooper R. The use of honey in diabetic foot ulcers. Diabetic Foot Journal [Internet]. 2017 Sep [cited 2021 Mar 11]; 20(3):154–9. Available from: https://www.diabetesonthenet.com/uploads/resources/103c9a866fdc475ceea1c099fc0d15f9.pdf 19. Rafter L, Reynolds T, Collier M, Rafter M, West M. A clinical evaluation of Algivon® Plus manuka honey dressings for chronic wounds. Wounds UK [Internet]. 2017 Nov [cited 2021 Mar 16];13(4):80–140. Available from: http://search.ebscohost.com/login.aspx?direct=true&db=ccm&AN=126083424&lang=es&site=ehost-live 20. Kateel R, Bhat G, Baliga S, Augustine AJ, Ullal S, Adhikari P. Antibacterial action of Tropical honey on various bacteria obtained from diabetic foot ulcer. Complement Ther Clin Pract. [Internet]. 2018 Feb [cited 2021 Mar 15]; 30:29-32. Available from: https://pubmed.ncbi.nlm.nih.gov/29389475 21. Auguskani JPL. A study to assess the chemical composition and antibacterial properties of honey. Biomedical Research (0970-938X) [Internet]. 2018 Oct 15 [cited 2021 Mar 13]; 29(19):3584–9. Available from: https://www.biomedres.info/biomedical-research/a-study-to-assess-the�chemical-composition-and-antibacterial-properties-of-honey-10918.html 22. Fyfe L, Okoro P, Paterson E, Coyle S, Mcdougall G.J. Compositional analysis of Scottish honeys with antimicrobial activity against antibiotic-resistant bacteria reveals novel antimicrobial components. LWT Food Sci. Technol. [Internet]. 2017; [cited 2021 Mar 16]; 79:52–59. Available from: https://doi.org/10.1016/j.lwt.2017.01.023 23. Lu J, Cokcetin NN, Burke CM, Turnbull L, Liu M, Carter DA, et al. Honey can inhibit and eliminate biofilms produced by Pseudomonas aeruginosa. Sci Rep. [Internet]. 2019 Dec [cited 2021 Mar 17]; 3;9(1):18160. Available from: https://pubmed.ncbi.nlm.nih.gov/31796774 24. Shirlaw O, Billah Z, Attar B, et al. Antibiofilm Activity of Heather and Manuka Honeys and Antivirulence Potential of Some of Their Constituents on the DsbA1 Enzyme of Pseudomonas aeruginosa. Antibiotics (Basel). [Internet]. 2020 Dec 15 [cited 2021 Mar 18]; 9(12):911. Available from: https://pubmed.ncbi.nlm.nih.gov/33334017 25. Pleeging CCF, Coenye T, Mossialos D, et al. Synergistic Antimicrobial Activity of Supplemented Medical-Grade Honey against Pseudomonas aeruginosa Biofilm Formation and Eradication. Antibiotics (Basel). [Internet]. 2020 Dec 14 [cited 2021 Mar 17]; 9(12):866. Available from: https://pubmed.ncbi.nlm.nih.gov/33291554 26. Liu MY, Cokcetin NN, Lu J, et al. Rifampicin-Manuka Honey Combinations Are Superior to Other Antibiotic-Manuka Honey Combinations in Eradicating Staphylococcus aureus Biofilms. Front Microbiol. [Internet]. 2018 Jan 11 [cited 2021 Mar 19]; 2018; 8:2653. Available from: https://pubmed.ncbi.nlm.nih.gov/29375518 27. Mitchell T. Use of Manuka honey for autolytic debridement in necrotic and sloughy wounds. Journal of Community Nursing. [Internet]. 2018 Aug [cited 2021 Mar 20]; 32(4):38-43. Available from: http://www.triplebcareprojects.org/uploads/1/1/8/0/118015594/use_of_manuk a_honey_for_debridement_in_necrotic_and_sloughy_wounds.pdf 28. Herianto Ritonga S, Masraini Daulay N. Effectiveness of using sialang honey on wound bed preparation in diabetic foot ulcer. Enfermeria clínica. [Internet]. 2019; [cited 2021 Mar 21]; 29:88-90. Available from: https://pubmed.ncbi.nlm.nih.gov/30733129 29. Suriadi, Rhamdaniyati, Sudirjo W, Ali S, Nurpiyanti A., Kardiatun T, Jiu CK. Case report on the use of a honey on diabetic foot ulcer patients. Journal of Indonesian National Nurses Association. [Internet]. 2018; [cited 2021 Mar 22]; 1(1), 98–104. Available from: https://doi.org/10.32944/ijinna.v1i1.23 30. Hassan SA, Aloufi MA, Sanousi SA, Alluqmany SA, Abuzinadah QE, Alshaikh WJ, et al. The value of honey dressing in the treatment of diabetic foot infections. Middle East Journal of Family Medicine [Internet]. 2020 Dec [cited 2021 Mar 22];18(12):68–76. Available from: http://www.mejfm.com/December%202020/Honey%20and%20diabetic%20foot.pdf 31. Putu EPK, Ida BADP, Roosseno RRN. Honey clinically stimulates granulation and epithelialization in chronic wounds: a report of two cases. Medical Journal of Indonesia [Internet]. 2018; [cited 2021 Mar 23];03;27(1):62-8. Available from: https://doi.org/10.13181/mji.v27i1.1457 32. Delshad E, Tavakkoli-Kakhki M, Motavasselian M. Successful Repair of Diabetic Foot Ulcer with Honey-Based Treatment: A Case Report. Iranian Red Crescent Medical Journal [Internet]. 2017; [cited 2021 Mar 24];03;19(3):1-4. Available from: https://doi.org/10.5812/ircmj.41939. 33. Nair HKR, Tatavilis N, Pospíšilová I, Kučerová J, Cremers NAJ. Medical�Grade Honey Kills Antibiotic-Resistant Bacteria and Prevents Amputation in Diabetics with Infected Ulcers: A Prospective Case Series. Antibiotics (Basel).[Internet]. 2020 Agu 19 [cited 2021 Mar 24]; 9(9):529. Available from: https://pubmed.ncbi.nlm.nih.gov/32825100 34. Sukarno A, Hidayah N, Musdalifah. The efectiveness of indionesian honey on diabetic foot ulcers healing process: Observational case study. International Journal of Nursing and Health Services [Internet]. 2019 Jun [cited 2021 Mar 24]; 2(2), 20-28. Available from: https://doi.org/10.35654/ijnhs.v2i2.88 35. Hegazi AG, Al Guthami FM, Basiouny MH, Al Gethami AFM. Topical Saudi Arabia Talh honey (Acacia nilotica) on surgical wound healing activity.Highlights in BioScience. [Internet]. 2020; [cited 2021 Mar 25]; 3:0. Available from: https://doi.org/10.36462/H.BioSci.20220 36. Vallabha T, Ragate AS, Sindgikar V, Deshpande H, Narasanagi B. Is honey an answer for eradication of biofilms? Indian journal of surgery. [Internet]. 2019; [cited 2021 Mar 25]; 81(2):144-149. Available from: https://doi.org/10.1007/s12262-018-1747-y 37. Al Saeed M. Prospective randomized comparison of controlled release ionic silver hydrophilic dressings and medicated honey-impregnated dressings in treating neuropathic diabetic foot ulcer. Saudi Journal for Health Sciences.[Internet]. 2019; [cited 2021 Abr 5]; 8(1):25–30. Available from: https://doi.org/10.4103/sjhs.sjhs_111_18 38. Koujalagi RS, Uppin VM, Shah S, Sharma D. One year randomized controlled trial to compare the effectiveness of honey dressing versus povidone iodine dressing for diabetic foot ulcer at Dr. Prabhakar Kore Hospital and MRC, Belagavi. International Surgery Journal. [Internet]. 2020; [cited 2021 Abr 5];7(2):506–513. Available from: http://dx.doi.org/10.18203/2349-2902.isj20200306 39. Tsang K, Kwong EW, To TS, Chung JW, Wong TK. A Pilot Randomized, Controlled Study of Nanocrystalline Silver, Manuka Honey, and Conventional Dressing in Healing Diabetic Foot Ulcer. Evidence - Based Complementary and Alternative Medicine. [Internet]. 2017; [cited 2021 Abr 28]; 2017. Available from: https://pubmed.ncbi.nlm.nih.gov/28239398 40. Jull AB, Cullum N, Dumville JC, Westby MJ, Deshpande S, Walker N. Honey as a topical treatment for wounds. Cochrane Database Syst Rev. [Internet]. 2015 Mar 6 [cited 2021 6 Abr]; (3):CD005083. Available from: https://pubmed.ncbi.nlm.nih.gov/25742878