Publication:
Las cortes del Estatuto Real (1834-1836)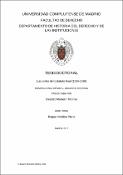 Files
Authors
Advisors (or tutors)
Editors
Publisher
Universidad Complutense de Madrid
Abstract
Dentro de la inestabilidad que caracteriza la historia constitucional de nuestro país durante el siglo XIX, el fallecimiento de Fernando VII abrió un nuevo período cargado de certezas e incertidumbres. Las certezas viene marcadas por la indudable necesidad de poner en marcha una serie de reformas económicas, administrativas y políticas que alejaran a nuestro país de las estructuras del Antiguo Régimen, profundamente desgastadas desde finales del siglo XVIII. Las incertidumbres determinarán la elección del procedimiento más adecuado para conseguir aquel propósito. Pero como la historia del siglo XIX no se ha desarrollado de modo equilibrado y sereno en nuestro país, hemos de considerar otro hecho distorsionador que vino a complicar extraordinariamente el panorama: la lucha dinástica que enfrentó a Don Carlos y a la Reina Regente en una cruenta guerra civil. Los gobernantes de tendencia liberal moderada, que asumieron el poder político en aquellos días, tuvieron que arbitrar un mecanismo que les permitiera conseguir su doble propósito de preservar los derechos dinásticos de Isabel II y mantener bajo control a una nación desestructurada desde distintos puntos de vista. El instrumento utilizado a tal efecto fue el Estatuto Real, cuya naturaleza jurídica ha sido muy cuestionada pero que se convirtió, a juicio de los liberales moderados, en la ley fundamental de la época que permitió hacer realidad el principio de soberanía compartida entre el Rey y las Cortes, alejando el peligro del restablecimiento de la Constitución de Cádiz...
Within the inestability typical to the constitutional history of our country along the 19th century, the death of King Fernando VII aroused a new period of certainties and uncertainties. The certainties required strong needs to introduce economical, administrative and political reforms to permit our country to move away from the Ancient Regime in force, deeply wasted since the end of the 18th century. The uncertainties represented the proper selection of a procedure to obtain the coverage of the afore mentioned objetives. However, due to the fact that the history of the 19th century was not developed fairly in our country, a complementary negative fact is to be considered: the dispute between prince Carlos and the Regent Queen Mª Cristina that developed a civil war. The political rulers of the moment, of moderate liberal tendencies, were obliged to adopt measures to preserve the dynastic rights of Queen Isabel II and maintain under control the broken nation. The liberal rulers of the period implemented and used a specific tool called "Estatuto Real" which was protested but became, in the opinion of the liberal rulers of the period, the fundamental law that permited the shared sovereignty of the King and the parliament to delete the danger of the former "Constitución de Cádiz"...
Description
Tesis inédita de la Universidad Complutense de Madrid, Facultad de Derecho, Departamento de Historia del Derecho y de las Instituciones, leída el 20/01/2016. Tesis retirada por expreso deseo de la autora.
Collections