Publication:
Sistema de alerta para gripe aviar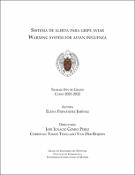 Authors
Advisors (or tutors)
Editors
Abstract
La situación de la gripe aviar en España empeora cada vez más. El número de brotes sigue creciendo a pesar de las altas temperaturas. La repercusión en la sociedad castiga de forma económica, sanitaria y social y produce el sacrificio de aves en buen estado de salud. Las mejoras desarroladas para el proyecto DiFlusion han sido la automatización de instalación de la propia aplicación y el desarrolo de una nueva interfaz. La automatización evita tiempo de preparación y complejidad a la hora de instalar la aplicación. A su vez, facilita el almacenamiento de datos ya que se trata de dos contenedores independientes pero que funcionan como servidor propio; sin necesidad de dependencia de Google Drive o de Github permite el almacenamiento de datos en local. Por otro lado, la interfaz no generará problemas de licencia debido a la librería escogida para el desarrolo; también se trata de una nueva interfaz más ligera y eficiente, pero con funcionalidades muy similares a la anterior.
The avian flu situation in Spain is getting worse and worse. The number of outbreaks continues to grow despite the high temperatures. The impact on society imposes economic, health and social penalties and leads to the slaughter of healthy birds. Improvements developed for the DiFlusion project have been the automation of the instalation of the application and the development of a new interface. Automation avoids preparation time and complexity when instaling the application. At the same time, it facilitates data storage due to two separate containers that work as a server; without the need for Google Drive or Github dependencies, it alows data storage localy. On the other hand, the interface wil not cause license problems due to the library chosen for development; it is also a new interface that is lighter and more efficient, but with functionalities very similar to the previous one.
Description
Trabajo de Fin de Grado en Ingeniería Del Software, Facultad de Informática UCM, Departamento de Arquitectura de Computadores y Automática, Curso 2021/2022.