Publication:
Tailoring on-axis spectral density with circularly coherent light beams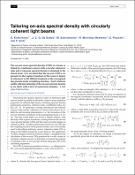 Authors
Martínez Herrero, Rosario
Advisors (or tutors)
Editors
Abstract
The on-axis cross-spectral density (CSD) of a beam radiated by a stationary source with a circular coherence state and a Gaussian spectral density is obtained in the closed form. It is revealed that the on-axis CSD is expressed via the Laplace transform of the source's degree of coherence or the Hilbert transform of the corresponding pseudo-mode weighting function. Such relations enable efficient tailoring of the on-axis spectral density, as we show with a slew of numerical examples.
Description
© 2022 Optica Publishing Group. Funding. Ministerio de Economía y Competitividad (PID2019-104268 GB-C21).
Collections