Publication:
Parametric characterization of non-uniformly polarized beams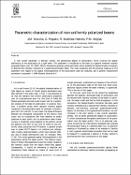 Advisors (or tutors)
Editors
Abstract
A new overall parameter is defined, namely, the generalized degree of polarization, which involves the spatial distribution of the polarization of a light beam. This parameter is introduced on the basis of a general treatment recently proposed [Optics Leb. 22 (1997) 206] to characterize partially polarized fields, which extends the Stokes-Mueller formalism to describe the intensity moments of a quasimonochromatic beam. The main properties and the physical meaning of this parameter with regard to the spatial inhomogeneities of the polarization state are analysed, and a general measurement procedure is proposed.
Description
©1998 Elsevier Science B.V. The research work leading to this paper has been supported by the Comisión Interministerial de Ciencia y Tecnología of Spain, under project TAP96-2333-E, within the framework of EU-1269 project. We also thank an anonymous referee for attaching a copy of the relevant pages of Ref. w15x, for the authors.
Citation
1 S. Lavi, R. Prochaska, E. Keren. Appl. Optics, 27 (1988), p. 3696. 2 M.J. Baastians. Optik, 82 (1989), p. 173. 3 A.E. Siegman. Proc. SPIE, 1224 (1990), p. 2. 4 J. Serna, R. Martı́nez-Herrero, P.M. Mejı́as. J. Opt. Soc. Am. A, 8 (1991), p. 1096. 5 H. Weber. Opt. Quantum Electron., 24 (1992), p. 1027. 6 Q. Lü, S. Dong, H. Weber. Opt. Quantum Electron., 27 (1995), p. 777. 7 S.C. Tidwell, D.H. Ford, W.D. Kimura. Appl. Optics, 29 (1990), p. 2234. 8 S.C. Tidwell, G.H. Kim, W.D. Kimura. Appl. Optics, 32 (1993), p. 5222. 9 J.M. Movilla, G. Piquero, R. Martínez-Herrero, P.M. Mejías, On the spatial characterization of polarized light beams, in: A. Giesen, M. Morin (Eds.), Proc. 4th International Workshop on Laser Beam and Optics Characterization, VDI-Technologiezentrum, in press. 10 R. Martı́nez-Herrero, P.M. Mejı́as, J.M. Movilla. Optics Lett., 22 (1997), p. 206. 11 Draft International Standard ISO/DIS 12005, Test methods for laser beam parameters: Polarization. 12 S. Simon, E.C.G. Sudarshan, N. Mukunda. Appl. Optics, 26 (1987), p. 1589. 13 L. Mandel, E. Wolf, Optical Coherence and Quantum Optics, chap. 6, Cambridge University Press, Cambridge, 1995. 14 E. Wolf. Phys. Rev. D, 13 (1976), p. 869. 15 D.S. Bugnolo, H. Bremmer, The Wigner distribution matrix for the electric field in a stochastic dielectric with computer simulation, in: P.W. Hawkes (Ed.), Advances in Electronics and Electron Physics, Academic Press, New York, 1983, pp. 299–389. 16 M. Born, E. Wolf, Principles of Optics, ch. X, Pergamon Press, Oxford, 1993. 17 J.M. Bennett, H.E. Bennett, Polarization, in: W.E. Driscoll, W. Vaughan (Eds.), Handbook of Optics, Section 10, McGraw-Hill, New York, 1978. 18 J. Krása, J. Jiřička, M. Lokajı́ček. Phys. Rev. E, 48 (1993), p. 3184.
Collections