Publication:
La realidad en la ficción: Las preocupaciones de los españoles en las series de televisión (1990-2010)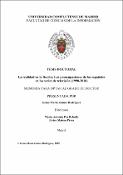 Files
Authors
Advisors (or tutors)
Editors
Publisher
Universidad Complutense de Madrid
Abstract
El objetivo principal de esta investigación es analizar la presencia de las preocupaciones de los españoles, según los Barómetros del Centro de Investigaciones Sociológicas (CIS), en las series de ficción nacionales. El periodo comprende de 1990, momento en el que la oferta de canales televisivos aumentó con la llegada de las primeras cadenas privadas, hasta 2010, cuando el modelo televisivo se rompió definitivamente con la llegada de la televisión digital y la multiplicación de canales.Se establece un modelo cronológico por etapas dentro del periodo analizado en función a los modelos dominantes de ficción. Dentro de cada etapa se plantea una categorización de personajes masculinos y femeninos, se estudia el desarrollo de las tramas de las series, así como las tendencias en cuanto a géneros, temáticas y otros elementos de la narrativa audiovisual. Por último, y una vez definida la estructura narrativa, se abordan las preocupaciones de los españoles que aparecen representados en las series de ficción...
The main objective of this research is to analyze the presence of the concerns of Spaniards, according to the Barometers of the Sociological Research Center (CIS), in national fiction series. The period covers from 1990, when the number of television channels increased with the arrival of the first private channels, to 2010, when the television model fractured once and for all when digital television appeared and the huge rise of channels.A chronological model is established by stages within the period analyzed according to the leading fictional models. Within each stage a categorization of male and female characters is proposed, the development of the series plots is studied, as well as the trends in genres, themes and other elements of the audiovisual narrative. Once the plot is defined, the concerns of the Spaniards who are represented in the fiction series are finally addressed...
Description
Tesis inédita de la Universidad Complutense de Madrid, Facultad de Ciencias de la Información, leída el 26-09-2019
Collections