Publication:
Relación entre el esfuerzo en I+D que hacen las empresas españolas y la eficacia conseguida por éstas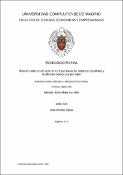 Files
Authors
Advisors (or tutors)
Editors
Publisher
Universidad Complutense de Madrid
Abstract
La suma de los conceptos de investigación, desarrollo e innovación, completa un ciclo del sistema de investigación que se proyecta como el más caracterizado incentivo para la creación de conocimiento en las estructuras de la empresa moderna. En la sociedad del conocimiento, este ciclo se convierte en el motor que potencia la economía, a través de la competitividad empresarial, y nutre un entorno socio-económico internacional dinámico en el que intervienen y lo potencian, todos los actores sociales, económicos, administrativos y políticos que conforman toda sociedad. Es cierto que el éxito del complejo de innovación depende del correcto funcionamiento de un conjunto de actores, momentos y recursos, pero en muchos casos la adquisición de estos recursos demanda por parte de las empresas diferentes tipos de financiación. El sistema de ciencia-tecnología-empresa español es relativamente pequeño en comparación con su posición económica en el contexto mundial. Lo que parece claro es que la productividad es el factor clave para la convergencia real y la innovación es el motor de la productividad. El objetivo general de esta tesis, es analizar la relación entre el esfuerzo en I+D que hacen las empresas españolas y la eficacia conseguida por estas. La muestra se compone por 1930 empresas obtenidas de la base de datos del PITEC (Panel de Innovación Tecnológica) durante el periodo comprendido entre el 2008 y 2012...
The combination of the concepts of research, development and innovation, completes a cycle of the research system that is seen as the most outstanding incentive for the knowledge creation within the structures of the modern business. In the knowledge society, this cycle becomes the engine that boosts the economy through business competitiveness, and feeds an international and dynamic socio-economic environment in which all stakeholders that make up society (social, economic, administrative and political stakeholders) get involved. The success of the innovation depends on the proper operation of a pool of stakeholders, moments and resources, and in many cases the acquisition of these resources requires different kinds of funding by companies. The Spanish science-technology-company system is relatively small sized when compared to its economic status within the global context. It seems clear that productivity is the key factor for real convergence, and innovation is the main driver of productivity. The overall objective of this Thesis is to analyse the relationship between the R&D effort made by the Spanish companies and the effectiveness achieved. The sample consists of 1,930 companies derived from the PITEC database (Technological Innovation Panel) during the period from 2008 to 2012. At a first stage, it focuses on the study of the differential performance of companies with internal expenditure in R&D and those without it, taking into account the company's activity sector...
Description
Tesis inédita de la Universidad Complutense de Madrid, Facultad de Ciencias Económicas y Empresariales, leída el 13/01/2016
Collections