Publication:
Mecanismos neurales y conductuales de la inhibición de la conducta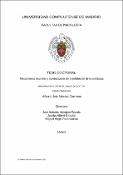 Authors
Advisors (or tutors)
Editors
Publisher
Universidad Complutense de Madrid
Abstract
La presente tesis doctoral examina los correlatos electrofisiológicos y conductuales de la inhibición selectiva, un tipo de inhibición de respuesta escasamente investigado. La selectividad del proceso inhibitorio es necesaria cuando los individuos deben lidiar con un entorno en el que están presentes múltiples estímulos, algunos de los cuales requieren interrumpir una respuesta (señales stop), mientras que otros requieren continuar respondiendo (señales ignorar o continuar). Previamente, la tarea de inhibición selectiva a nivel del estímulo se ha utilizado para explorar este asunto asumiendo que todos los participantes interrumpían su respuesta motora en curso de forma selectiva ante el estímulo stop pero no ante el estímulo ignorar. Sin embargo, los hallazgos recientes a nivel conductual sugieren que algunos individuos parecen interrumpir sus respuestas de forma no selectiva ante ambas señales. En la presente tesis doctoral, se detectó y controló por primera vez, según nuestro conocimiento, la estrategia cognitiva que adoptó cada participante al realizar una tarea de parada selectiva a nivel del estímulo antes de examinar los mecanismos neurales asociados con el proceso de cancelación de respuesta. En concreto, se examinaron los correlatos electrofisiológicos de la cancelación de respuesta en cada una de las estrategias para resolver un paradigma de inhibición selectiva a través del análisis de los potenciales evento-relacionados (PER) y de las dinámicas oscilatorias, tanto a nivel de cuero cabelludo como de vóxel...
The present doctoral dissertation examines the electrophysiological and behavioral correlates of selective stopping, a form of response inhibition that has scarcely been investigated. The selectivity of the inhibitory process is needed when individuals have to deal with an environment filled with multiple stimuli, some of which require the interruption of an already response (stop signals) and some of which require continue responding (ignore or continue signals). The stimulus-selective stop-signal task has been used to explore this issue assuming that all participants cancel their ongoing motor response selectively to stop but not to ignore signals. However, recent behavioural evidence suggests that some individuals seemed to suppress their motor responses non-selectively to both signals. In this dissertation, we detected and controlled for the first time the strategy adopted by participants when they performed a stimulus-selective stop-signal task before examining the neural mechanisms associated with the response cancellation process. Specifically, we explored the event-related potentials (ERPs) and oscillatory correlates of response cancellation underlying each strategy, both at the scalp- and source-levels...
Description
Tesis inédita de la Universidad Complutense de Madrid, Facultad de Psicología, leída el 18/11/2019. Tesis formato europeo (compendio de artículos)
Collections