Publication:
The Sikh Gender Construction and Use of Agency in Spain: Negotiations and Identity (Re)Constructions in the Diaspora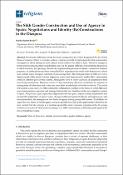 Authors
Advisors (or tutors)
Editors
Abstract
For decades, Sikhs have made the choice to migrate to the United Kingdom (UK), the United States of America (USA), or Canada, as these countries are held in high esteem by Sikh communities and appear to afford prestige in socio-cultural terms to those who settle in them. However, changes in border policies (among other considerations such as the greater difficulty of establishing themselves in other countries, the opening of borders by regularization processes in Spain, commercial business purposes, or political reasons) have compelled Sikh migrants to diversify their destinations, which now include many European countries, Spain among them. The first generation of Sikhs arrived in Spain as part of this search for new migratory routes, and there are now sizable Sikh communities settled in different parts of this country. All migrants need to follow a process of adaptation to their new living environment. Moreover, a novel living context may offer new possibilities for migrants to (re)negotiate old identities and create new ones, both at individual and collective levels. This article will explore a case study of a Sikh community in Barcelona to reflect on the forms in which Sikh men and women perceive, question, and manage their identity and their lives in this new migratory context in Spain. The present paper argues that adaptation to the new place implies identity negotiations that include the redefinition of gender roles, changes in the management of body and appearance, and, most particularly, the emergence of new forms of agency among young Sikh women. In addition, we argue that new forms of female agency are made possible not only by the opportunities offered by the new context, but also emerge as a reaction against the many pressures experienced by the young women and exerted by their male counterparts in Sikh communities, as the latter push against the loss of traditional values.
Collections