Publication:
Influencia de la menopausia en la prevalencia de la resistencia a la insulina en la población urbana de Talavera de la Reina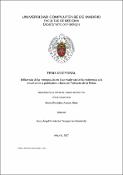 Files
Authors
Advisors (or tutors)
Editors
Publisher
Universidad Complutense de Madrid
Abstract
La menopausia es una etapa en la vida de la mujer que se produce como consecuencia del agotamiento de los folículos ováricos. En éstos se producen las hormonas sexuales femeninas: estrógenos y progesterona que van a disminuir considerablemente en esta etapa y que por reducción del mecanismo de feed back negativo producen elevación de las hormonas gonadotropas: FSH y LH. El descenso de estrógenos, tiene como consecuencia una serie de alteraciones que repercutirán en la calidad de vida de la mujer. Aumenta la susceptibilidad a enfermedades crónicas como obesidad (con alteración en la distribución de la grasa), hipertensión arterial (HTA), resistencia a la insulina (RI), diabetes mellitus tipo 2 (DMT2), dislipemia (DL), afectación del sistema nervioso central (SNC) y osteoporosis, entre otras. El aumento de la grasa se debe a hiperplasia, o aumento del número de adipocitos y a hipertrofia, o aumento del tamaño de éstos. La distribución de la grasa en la menopausia es la tipo androide en la que lo característico es el aumento de la grasa a nivel abdominal o visceral. El aumento de tamaño de los adipocitos favorece la producción de adipoquinas, ácidos grasos libres y/o inflamación por el aumento de los macrófagos (liberan citoquinas) y linfocitos, que llevan a la resistencia a la insulina. La leptina, es una hormona segregada por el tejido adiposo, que informa al cerebro de la magnitud de las reservas energéticas e interviene en la regulación del apetito. La leptina también suprime la secreción de insulina por las células beta del páncreas. La disregulación del eje adipoinsular favorece la obesidad y la hiperinsulinemia asociada con la diabetes. Si la resistencia a la insulina no se corrige se produce una alteración del metabolismo glucídico y lipídico así como del equilibrio redox que con los años evolucionará, entre otras patologías a DMT2...
Menopause is the stage in a woman's life that is characterized by depletion of ovarian follicles, leading to a considerable decrease in female sex hormones, oestrogen and progesterone. Henceforth the negative feedback mechanism is missing and the release of gonadotropic hormones LH and FSH is increased. Oestrogen deficiency, leads to several alterations that might affect the quality of life of women. It promotes also chronic diseases such as obesity (with changes in fat distribution), hypertension (AHT), insulin resistance (IR), type 2 diabetes mellitus (DM 2), dyslipidemia (DL), central nervous system (CNS) alterations and osteoporosis, among others. Increased percentage of fat tissue is due to hyperplasia, hypertrophy, and proliferation of adipocytes. Fat distribution in menopause is characterized by an increase of abdominal or visceral fat tissue, the so-called android type. Hyperplasia of adipocytes favours the release of adipokines and free fatty acids. Further inflammation activity is maintained by an increased number of macrophages (via cytokine release) and lymphocytes, leading to progressive insulin resistance. The hormone leptin is secreted by adipocytes, and informs the brain about the magnitude of energy reserves and is also involved in appetite regulation. Leptin suppresses insulin secretion by pancreatic beta cells. Dysregulation of this feedback mechanism promotes obesity and hyperinsulinemia. Insulin resistance (IR) progressively alters lipid and glucose metabolism, imbalances the oxidativereduction reactions and might culminate in Diabetes Mellitus type 2...
Description
Tesis inédita de la Universidad Complutense de Madrid, Facultad de Medicina, Departamento de Fisiología, leída el 20-01-2016
Collections