Publication:
El valor económico del español: España ante el espejo de Polonia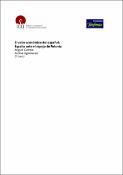 Advisors (or tutors)
Editors
Publisher
Instituto Complutense de Estudios Internacionales (ICEI)
Abstract
El trabajo utiliza el ejemplo de Polonia para abordar el valor económico de la lengua española. La similitud entre las comunidades que hablan español en España y polaco en Polonia se utiliza para analizar los problemas de las aproximaciones macroeconómicas. El estudio pone de manifiesto las diferencias entre ambos idiomas a través de la demanda existente para su estudio, tanto en los respectivos países como en el resto del mundo. También explora el peso de ambos idiomas en la internacionalización de la enseñanza universitaria y en el programa Erasmus. La comparación pone de manifiesto los beneficios de pertenecer a una comunidad de hablantes de más de 400 millones de personas y de que exista una importante demanda para el aprendizaje del idioma. This study uses the case of Poland to explore the economic value of the Spanish language. As the communities of Spanish and Polish speaking people in each country are very similar, the problems of macro approaches are analysed. The paper takes into account the differences between the demand of both languages in the home countries as well as in the rest of the world, and presents the main data on the rol of both countries in the internationalization of university studies, and specially in the Erasmus program. The main conclusion is that important benefits draw on the belonging to a huge community of more than 400 million of Spanish speaking people and the presence of an important demand to learn the language.
Description
El presente trabajo forma parte de las monografías derivadas del programa de investigación "El valor económico del español: una empresa multinacional". Director: José Luis García Delgado. Codirectores: José Antonio Alonso, Juan Carlos Jiménez.