Publication:
Fórmula Áur[e]a. Reflexiones en torno a una exposición de 15 volúmenes.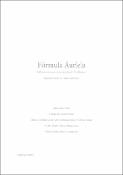 Authors
Advisors (or tutors)
Editors
Abstract
Este trabajo refleja una investigación teórico-práctica sobre el proyecto expositivo Fórmula Áur[e]a, realizado a propósito del propio Trabajo de Fin de Máster, que aborda una reflexión en torno al proceso creativo y la manera en la que es posible formalizarlo. El trabajo construye una narración paralela en la que aparecen, en una primera parte, los aspectos técnicos y conceptuales que componen el proyecto, para realizar a continuación un aparato teórico que lo acompaña y del que se nutre durante su desarrollo, configurándose una retro-alimentación entre ambos. La investigación se elabora de esta manera como un proceso, como un hacer del TFM y un pensar desde el hacer; generando, además del ejercicio propuesto desde la práctica, el aparato teórico que recoge este escrito. El segundo bloque conceptual, se utiliza como un contexto que realiza un apunte sobre algunos de los diferentes agentes que intervienen en la producción artística contemporánea, tomando como punto de partida el giro de-constructivo que se produjo a finales de los años 60 en Europa y Estados Unidos y desembocando en la publicación como medio creativo, apoyando el propio proyecto en diversos ejemplos que utilizan este tipo de formato editorial para ejecutarse.
This project is a theorical-practic investigation abouve the exhibition Fórmula Áur[e]a, realized about the TFM in the Master of Cultural Managment at Reina Sofia Museum. A reflextion around the creative process and the way it can be formalized. This text bilt a parallel narration where appears, first, the technical and conceptual aspects that compose the project and then a theorical chapter that follow this previous part, feeding it, configuring a sort of retro-alimentation of it. In this way the research is built in the same way of the process, like doing the TFM with a thinking trought the doing, generating, not only an exercise that comes from the practic but also the theorical base that support this text. The second conceptual block its used like a context to realize a route trought the analisis of some agents that play a role inside the contemporary art production, taking as a start point the de-constructive turn that happend in the end 60's in Europe and U.S. with a particular focus tho whom that use publications as a creative tool, substaining this project with the diffrent exemples of this kind that use the editorial format to formalize a content.