Publication:
Patrones de dominio de atributos cognitivos en comprensión lectora: aplicación de un modelo de diagnóstico cognitivo-psicométrico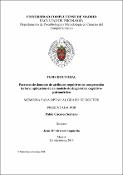 Files
Authors
Advisors (or tutors)
Editors
Publisher
Universidad Complutense de Madrid
Abstract
La tesis doctoral reúne tres estudios del área psicoeducativa independientes pero vinculados teóricamente entre sí, que buscan aportar evidencia en torno a las diferencias cognitivas que pueden apreciarse entre escuelas cuando el factor social y económico es un determinante del desempeño. El problema proviene de la necesidad de darle un sentido a las habituales y esperables diferencias que se generan por efecto de la condición socioeconómica en diversos grupos humanos. El trabajo se ha centrado en el estudio de la comprensión lectora pues además de ser una habilidad fundamental para el desarrollo futuro de muchas otras disciplinas académicas, representa una de las medidas consideradas para evaluar la calidad de la educación en muchas mediciones internacionales. Se expone la desigualdad en la adquisición y desempeño de esta importante habilidad, fruto de diferencias generadas por el factor socioeconómico, lo que perjudica a los más desfavorecidos, situación que se ha perpetuado en el tiempo en el contexto local chileno. La pretensión de fondo es tender un puente entre las diferencias que se observan en el nivel social más amplio y a las cuales se les atribuyen las diferencias observadas entre escuelas, y los efectos psicológicos que estas diferencias pueden llegar a tener -específicamente en el ámbito cognitivo- entre estudiantes de los centros comparados...
This doctoral thesis brings together three independent psychoeducational studies, but linked theoretically with each other. These studies seek to provide evidence about the cognitive differences that can be seen between schools when social and economic factors are a determinant of educational performance. The problem comes from the need to give a sense to the usual and expected differences that are generated by the effect of socioeconomic status in various human groups. The work has focused on the study of reading comprehension because it's a fundamental skill for the future development of many other academic disciplines, and it represents one of the measures considered to evaluate the quality of education in many international measurements. It exposes the inequality in the acquisition and performance of this important skill, the result of differences generated by the socioeconomic factor, which harms the most disadvantaged, a situation that has been perpetuated over time in the Chilean local context.The underlying aim is to build a bridge between the differences observed in the broader social level and to which the differences observed between schools are attributed, and the psychological effects that these differences may have -specifically in the cognitive domain- between students of the compared centers...
Description
Tesis de la Universidad Complutense de Madrid, Facultad de Psicología, Departamento de Psicobiología y Metodología en Ciencias del Comportamiento, leída el 12-11-2018
Collections