Publication:
Visualizing Sound, Hearing Diagrams: On the Creative Process of Syrmos by Iannis Xenakis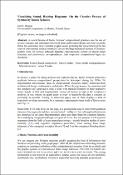 Advisors (or tutors)
Editors
Abstract
A salient feature of Iannis Xenakis' compositional practices was the use of several concepts and techniques borrowed from architectural design and from scientific fields. He sometimes drew complete graphic scores preluding the transcription of his fair copy of conventional musical notation. I discuss the diagrammatical features of Xenakis' graphic score for Syrmos: although disparate representations depend on shared image schemata and cross-modal correspondences, their respective compositional logics are dissimilar.
Collections