Publication:
Estructura, propiedades electrónicas y espectroscopía del HfSe₂ en condiciones extremas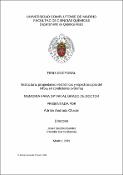 Files
Authors
Advisors (or tutors)
Editors
Publisher
Universidad Complutense de Madrid
Abstract
Aunque tradicionalmente se ha explorado con mayor detalle el efecto de la temperatura, el uso de la alta presión se ha consolidado como una herramienta con un elevado potencial, que permite acceder a un régimen termodinámico donde las propiedades de los sistemas experimentan en muchas ocasiones cambios sorprendentes. A lo largo de esta Tesis Doctoral, prestaremos especial atención al uso de esta magnitud para analizar desde diferentes puntos de vista el comportamiento del HfSe2. Los principales aspectos que abordaremos sobre este material serán su estructura cristalográfica, estructura electrónica, y, por último, las vibraciones y dinámica de la red cristalina. De este modo, la memoria de esta Tesis está organizada de la siguiente forma: comienza con un capítulo donde se introduce la descriptiva general de los TMDs, y se contextualiza el uso de la alta presión como herramienta de interés para acceder al estudio de estos sólidos. Seguidamente, un capítulo dedicado a las técnicas y metodología empleadas durante el transcurso de esta Tesis. El siguiente capítulo constituirá un primer bloque de resultados donde se recoge la caracterización del HfSe2 a presión ambiente. A lo largo de este primer capítulo de resultados se discutirán con detalle las cuestiones relacionadas con la estructura cristalográfica, estructura electrónica y vibraciones del sólido que servirán de referencia y sentarán la base adecuada para el posterior estudio en condiciones extremas de presión. Asimismo, estos aspectos se abordan sistemáticamente en profundidad en los siguientes capítulos, enteramente dedicados a los resultados obtenidos del HfSe2 bajo presión. Por último, se resumirán las conclusiones más destacadas de este trabajo...
Although the effect of temperature has traditionally been explored in greater detail, the use of high pressure has established itself as a tool with a high potential, which allows access to a thermodynamic regime where the properties of systems often experience surprising changes . Throughout this Doctoral Thesis, we will pay special attention to the use of this magnitude to analyze the behavior of HfSe2 from different points of view. The main aspects that we will approach about this material will be its crystallographic structure, electronic structure, and, finally, the vibrations and dynamics of the network crystalline In this way, the memory of this Thesis is organized in the following way: begins with a chapter where the general description of the TMDs is introduced, and the use of high pressure as a tool of interest to access the study of these solids is contextualized. Next, a chapter dedicated to techniques and methodology used during the course of this Thesis. The next chapter will constitute a first block of results which includes the characterization of HfSe2 at ambient pressure. Throughout this first chapter of results the issues will be discussed in detail related to the crystallographic structure, electronic structure and vibrations of the solid that will serve as a reference and will provide the appropriate basis for further study under extreme pressure conditions. In addition, these aspects are systematically addressed in depth in the following chapters, entirely dedicated to the results obtained from HfSe2 under pressure. Finally, the conclusions will be summarized outstanding of this work ...
Description
Tesis de la Universidad Complutense de Madrid, Facultad de Ciencias Químicas, Departamento de Química Física, leída el 29-06-2018
Collections