Publication:
Simple factorization of unitary transformations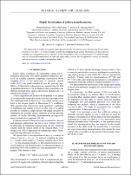 Advisors (or tutors)
Editors
Publisher
American Physical Society
Abstract
We demonstrate a method for general linear optical networks that allows one to factorize any SU(n) matrix in terms of two SU(n-1) blocks coupled by an SU(2) entangling beam splitter. The process can be recursively continued in a straightforward way, ending in a tidy arrangement of SU(2) transformations. The method hinges only on a linear relationship between input and output states, and can thus be applied to a variety of scenarios, such as microwaves, acoustics, and quantum fields.
Description
©2018 American Physical Society. The work of H.d.G. and O.D.M. is supported by NSERC of Canada. I.Q.C. is supported in part by the Government of Canada and the Province of Ontario. O.D.M. is also grateful for hospitality at the MPL. L.L.S.S. acknowledges financial support from the Spanish MINECO (Grant No. FIS2015- 67963-P). We thank L. Rudnicki for helpful discussions.
Collections