Publication:
Perfiles hormonales esteroideos durante el embarazo y la utilización de modelos matemáticos para la predicción del inicio del parto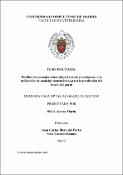 Files
Authors
Advisors (or tutors)
Editors
Publisher
Universidad Complutense de Madrid
Abstract
Uno de los principales objetivos de la obstetricia es el conocimiento más profundo de los acontecimientos que suceden durante el embarazo, con el finde procurar un buen desarrollo fetal que culmine con una transición a la vida extrauterina y adaptación a la etapa infantil y madurez satisfactorios. La interacción hormonal es crucial para una adecuada evolución fetal, siendo el segundo trimestre una etapa imprescindible para la maduración de los órganos y sistemas; y el tercer trimestre necesario para la preparación al parto y la vida extrauterina. Los procesos fisiológicos de la gestación dependen principalmente de la interacción de distintos factores, donde los sistemas endocrinos maternofetales tienen un papel imprescindible para el buen desarrollo fetal. La placenta y las glándulas adrenales (fetales y maternas) son los órganos responsables dela síntesis de grandes cantidades de hormonas esteroideas durante el segundo y tercer trimestre de gestación. La exposición del feto a elevadas cantidades de hormonas esteroides pueden tener un impacto negativo en el desarrollo fetal...
One of the main goals in obstetrics is the deeper knowledge of the events that occurs during pregnancy, in order to ensure a good fetal development that culminates with a transition to extrauterine life and adaptation to childhood and satisfactory maturity. The hormonal interaction is crucial for an adequate fetal evolution, being the second trimester an essential stage for the maturation of the organs and systems; and the third trimester necessary for childbirth preparation and extrauterine life. The physiological processes of pregnancy mainly depend on the interaction of different factors where the maternal-fetal endocrine systems havean essential role for the good fetal development. The placenta and the adrenal glands (fetal and maternal) are the organs responsible for the synthesis of large amounts of steroid hormones during the second and third trimesters of pregnancy. Exposure of the fetus to high amounts of steroid hormones canhave a negative impact on fetal development...
Description
Tesis inédita de la Universidad Complutense de Madrid, Facultad de Veterinaria, leída el 18-12-2020
Collections