Publication:
Hacia una ecología política de las fronteras: el caso de Esmeraldas en Ecuador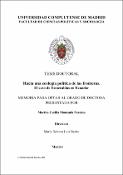 Files
Authors
Advisors (or tutors)
Editors
Publisher
Universidad Complutense de Madrid
Abstract
Las fronteras se han resignificado. Diversos estudios llevados a cabo en la última década dan cuenta de la importancia que éstas han adquirido. Si bien esta tesis se enmarca en esa tendencia, se distingue porque se concentra en el estudio de una frontera fundamentalmente conocida por el conflicto que vive Colombia y que ha tenido repercusiones en los países vecinos: se trata de la frontera norte ecuatoriana, de la provincia de Esmeraldas en el extremo occidental del Ecuador adyacente a Colombia y el Pacífico. Aunque la tesis examina los efectos del conflicto colombiano sobre este territorio fronterizo, su énfasis es comprender el sentido y carácter de las políticas definidas para promover su integración a su contenedor político, el Estado ecuatoriano en la perspectiva de contribuir en la generación de un marco interpretativo y analítico para comprender las dinámicas suscitadas en la incorporación de zonas fronterizas que históricamente han permanecido rezagadas, olvidadas, subalternizadas. De ahí el título de la tesis, "Hacia una ecología política de las fronteras. El caso de Esmeraldas en Ecuador"...
Borders have changed their meaning. The borders have been reassigned. Several studies that have been carried out in the last decade show the importance they have acquired. This thesis follows that trend but it may be distinguished as it focuses on the study of a border that is fundamentally known for the Colombian conflict and its repercussions in neighboring countries: the northern Ecuadorian border of the province of Esmeraldas, located in the western end of Ecuador adjacent to Colombia and the Pacific. Although the present thesis examines the effects of the Colombian conflict on this border territory, its emphasis is to understand the meaning and guidance of policies oriented to promote the integration of Esmeraldas into its political container, the Ecuadorian State. This approach strives to generate an interpretive and analytical framework to understand the dynamics aroused in the incorporation of border areas that historically have fallen behind and remained forgotten and subalternized. Hence the title of the thesis, "Towards a political ecology of borders. The case of Esmeraldas in Ecuador"...
Description
Tesis inédita de la Universidad Complutense de Madrid, Facultad de Ciencias Políticas y Sociología, leída el 29-09-2020
Collections