Publication:
Valor de la resonancia magnética cardiaca en el diagnóstico de la cardiopatía chagásica en área no endémica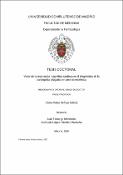 Authors
Advisors (or tutors)
Editors
Publisher
Universidad Complutense de Madrid
Abstract
La Enfermedad de Chagas (EC), también conocida como tripanosomiasis americana, está causada por el parásito Trypanosoma cruzi. Es una de las enfermedades tropicales importadas más prevalentes en España, y con una estimación del 93.9%-96.4% de casos infra diagnosticados 11.La afectación cardiaca puede ocurrir desde los estadios iniciales y la cardiopatía chagásica crónica es la manifestación más frecuente de la infección crónica; sueleser asintomática o paucisintomática hasta fases avanzadas de la enfermedad yse relaciona con una reducción de la esperanza de vida23. Por estos motivos es importante su identificación precoz. El diagnóstico de la cardiopatía chagásica crónica se ha basado tradicionalmente en el electrocardiograma y la radiografía de tórax. Las alteraciones electrocardiográficas típicas son el bloqueo de rama derecha y/o bloqueo fascicular izquierdo (> 50% de los pacientes).En la actualidad, en muchos centros, dada la baja especificidad de estos signos electrocardiográficos incluyen como criterios diagnósticos la evidencia de dilatación ventricular o de alteraciones de la motilidad global o segmentaria (más frecuente ápex y en los segmentos inferoposteriores del ventrículo izquierdo)evidenciadas mediante ecografía bidimensional...
Chagas disease (CD), also known as american trypanosomiasis, is caused by theTrypanosoma cruzi. It is one of the most prevalent of all tropical infectious diseases imported in Spain, with an estimated rate of 93.9%-96.4% of underdiagnosed cases. Cardiac involvement can occur from the early stages and chronic chagasic cardiopathy is the most frequent manifestation of chronic infection. It is usually asymptomatic or with few symptoms until advanced stages of the disease and is associated with a reduction in life expectancy. For these reasons, early identification is very important. The diagnosis of chronic Chagasic cardiopathy has traditionally been based on the electrocardiogram and chest X-ray. Typical electrocardiographic alterations are right bundle branch block and/or left fascicular block (> 50% of patients). At present, in many centers, given the low specificity of these electrocardiographic signs, diagnostic criteria include evidence of ventricular dilatation or alterations in global or segmental cardiac contraction (more frequently located at the left ventricular apex and in the left ventricular inferoposterior segments) evidenced by bidimensional ultrasound echo...
Description
Tesis de la Universidad Complutense de Madrid, Facultad de Medicina, Departamento de Farmacología, leída el 12/07/2017
Collections