Publication:
El uso de textos literarios narrativos en la enseñanza del español desde la perspectiva de la gramática del texto: el caso de los alumnos tailandeses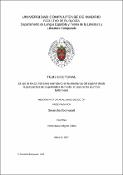 Files
Authors
Advisors (or tutors)
Editors
Publisher
Universidad Complutense de Madrid
Abstract
Como se describe en el título de la tesis: el uso de textos literarios narrativos en la enseñanza de español desde la perspectiva de la gramática del texto: el caso de los alumnos tailandeses, la idea primordial de este trabajo nace al prestar una atención especial a las características de la lingüística del texto, convencidos de que pueden ser provechosas tanto para los profesores como los alumnos, con objetivo de mejorar el uso del español por parte de los alumnos tailandeses. Dichas características especiales abarcan desde la coherencia global, la coherencia parcial enfocada en las relaciones lógico-semánticas, la organización semántica interna, las características lingüísticas y su función comunicativa entre el escritor y el lector. Estas características de la competencia discursiva, que se destacan en esta investigación, se pueden encontrar en innumerables textos y, por eso, les resulta factible a los profesores de E/LE utilizar los textos y servirles de herramienta fructífera. Ante nuestra tentativa de mejorar la comunicación, se nos hace necesario estudiar, consiguientemente, el componente vertebrador de la composición textual: la coherencia y la cohesión, con una metodología que nos ha permitido descubrir los errores cometidos por los alumnos tailandeses en cuanto a la competencia discursiva y estudiar el posible aprovechamiento de las propiedades narrativas halladas en los textos literarios en el aula de E/LE...
As described by its title: the use of narrative literary texts in Spanish language teaching from the perspective of text grammar: the case of Thai students, the fundamental concept of this doctoral work originates from our particular attention to the characteristics of text linguistics, which are shown to be useful for both teachers and students in light of improving the use of Spanish language by Thai students. These special characteristics include global coherence, partial coherence focusing on semantic logical consequence, intrinsic semantic organization, linguistic components and its communicative function between writer and reader. The discourse competence, which is emphasized in this investigation, can be found in innumerous texts and, for this reason, it results feasible for E/LE teachers to use texts as their productive tool. Since our intention is to improve the communication, it's worth studying the principal components of the text composition: coherence and cohesion. On the other hand, the methodology of this doctoral work situates us in the necessity of finding/detecting the mistakes made by Thai students regarding discourse competence and studying the possible exploitations of narrative characteristics discovered in literary texts in the E/LE class. The proposal of this thesis starts from three principal theories, which are the feasibility of the use of literature in the field of E/LE, the knowledge of the characteristics of narrative literary texts usable in language teaching and, finally, the concept of text linguistics. The first theoretical chapter presents a brief history of language and literature teaching, didactic models applying literature for distinctive academic purposes and the competences contributed from using literary texts, such as reading, intercultural and linguistic communicative competences...
Description
Tesis inédita de la Universidad Complutense de Madrid, Facultad de Filología, Departamento de Lengua Española y Teoría de la Literatura y Literatura Comparada, leída el 02-12-2016
Collections