Publication:
El Catecismo para el uso de todas las iglesias del Imperio francés. De su empleo por el buen ciudadano‐soldado a su edición en España.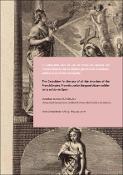 Authors
Advisors (or tutors)
Editors
Publisher
Biblioteca Histórica de la Universidad Complutense de Madrid
Abstract
El presente artículo examina el catecismo impuesto por el emperador Napoleón I en 1806 para todos los territorios y estados aliados del Primer Imperio francés, el deterioro de las relaciones con la Iglesia católica, y los precedentes que se establecen desde la firma del Concordato de 1801. La distribución efectiva, y en grandes cantidades, de la nueva norma imperial permite al investigador acceder al catecismo en diversos idiomas y contextos. Este estudio expone la elaboración de la edición francesa y su traducción en 1807 gracias a Joaquín Antonio de Sojo. Será igualmente objeto de nuestro interés el uso de esta obra en la educación y su reflejo en el servicio militar. Para ello se emplearán los ejemplares en propiedad de la Biblioteca Histórica Marqués de Valdecilla.
This article analyzes the catechism imposed by Emperor Napoleon I in 1806 for all the territories and allied states of the First French Empire, the deterioration of relations with the Catholic Church, and the precedents established since the signing of the Concordat of 1801. The effective and massive distribution of the new imperial norm allows the researcher to access it in various languages and contexts. In this study it will be exposed the elaboration of the French edition and its Spanish translation in 1807 thanks to Joaquín Antonio de Sojo. The use of this work in education and its reflection in military service will also be object of our interest. For this we will use the editions owned by the Marqués de Valdecilla Historical Library.
Collections