Publication:
The e/K' diagram. An application of the "slip model" to the population fault analysis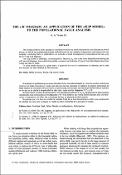 Authors
Advisors (or tutors)
Editors
Publisher
Sociedad Geológica de España
Abstract
The existing problems in the analysis of tectonical evolutions by brittle indicators in areas affected by several phases, as well as the populational analysis methods based on the concepts of eigenvalues and eigenvectors are analyzed, concluding that it is preferable to use methods in which the singularity of each data is not lost, as in the P /T and y /R diagrams. The «slip model» is developed, introducing the K' factor (e/ez ratio in the strain ellipsoid) and drawing the e/K' and e/0 diagrams, from which it is possible to analyze the evolutions of type of the s,train ellipsoid just from trends and dips of faults. To study brittle tectonics in a given area it is proposed the use of a combination of methods, and to take into account the data obtained by field geology.
Se analizan los problemas que presenta el análisis de los marcadores frágiles a la hora de estudiar evoluciones tectónicas en áreas afectadas por varias fases así como los que presentan los métodos de análisis poblacional de fallas basados en el concepto de autovalores y autovectores, concluyendo que resulta preferible utilizar métodos en los que no se pierda la singularidad de cada dato, como son los diagramas P/T e y/R. Se desarrolla el «modelo de deslizamiento» introduciéndose el factor K' (elez del elipsoide de deformación) concluyendo en la construcción de los diagramas e/K' ye/0, desde los que resulta posible analizar, sólo con direcciones y buzamientos de fallas, las evoluciones del tipo de elipsoide de deformación. Se propone que, a la hora de estudiar la tectónica frágil de un área determinada se utilice una combinación de métodos así como que se tengan en cuenta los datos obtenidos de la geología de campo.
Collections