Publication:
Experiencias sobre el terrorismo de Estado en Perú (1980-2000)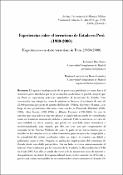 Advisors (or tutors)
Editors
Publisher
Centro de Estudios de la Guerra-RUHM
Abstract
El siguiente trabajo parte de un punto tan problemático como hasta el momento poco abordado por la investigación académica: es posible aceptar que en Perú se registraron prácticas asimilables al terrorismo de Estado. Una aseveración tan categórica como la anterior se basa en el asesinato de más de 25.000 personas por parte de agentes del Estado –Policía, Ejército y Marina–, a lo largo de tres presidencias diferentes como son las de Fernando Belaúnde (1980- 1985), Alan García (1985-1990) y Alberto Fujimori (1990-2000). Es por lo anterior que una práctica con este alcance y significado no puede ser considerada como un fenómeno meramente aislado o puntual. Todo lo contrario, se trata de una realidad, en cierta manera, que puede ser concebida como sistemática e institucionalizada, aun cuando, por ello, no tiene por qué comprometer al conjunto de las Fuerzas Militares del país. Se parte de un marco teórico que se inscribe en los estudios críticos sobre terrorismo para reconocer la complejidad y la actualidad del debate académico sobre un objeto de estudio tan difícil y polisémico como es éste. Después, se analiza las implicaciones del terrorismo de Estado desde una doble perspectiva. Por un lado, se revisa minuciosamente el Informe Final elaborado por la Comisión de la Verdad y la Reconciliación (CVR) en el año 2003. Con ello, se puede dar cuenta de los numerosos casos de muertes y desapariciones en donde la responsabilidad recae exclusivamente en el Estado y por lo cual, serían susceptibles de ser considerados como terrorismo de Estado. De otra parte, se analizan narrativas producto de diferentes entrevistas en profundidad realizadas en mayo de 2018. Entrevistas que se centran en víctimas de la violencia en Perú, de Lima y Huancavelica, pero también de antiguos y destacados integrantes de Sendero Luminoso (PCP-SL) y de las Fuerzas Militares, que dan buena cuenta de lo que supuso la violencia política en Perú.
The present work stems from a problematic topic, so far insufficiently addressed by academic research: the possibility of accepting that certain practices, generally attributed to state terrorism, took place in Peru. Such an assertion is based on the murder of more than 25,000 people by state agents from the Police, the Army and the Navy in three consecutive presidential terms: Fernando Belaúnde's (1980-1985), Alan García's (1985-1990) and Alberto Fujimori's (1990-2000). Hence, such a serious matter ought not be considered merely as an isolated or odd phenomenon. Much to the contrary, it represents an allegedly systematized and institutionalized reality, though it should not necessarily compromise the whole of Peru's Military Forces. Firstly, the theoretical framework –framed within a wider range of critical studies on terrorism in order to encompass the complexity and topicality of the academic debate on this dry and multi-faceted object of study– will be presented. After that, the implications of state terrorism will then be explained from a double perspective. On the one hand, the Final Report wrote by the Truth and Reconciliation Commission (CVR) in 2003 will be thoroughly reviewed. This report makes it possible to account for the numerous cases of deaths and disappearances for which the Peruvian State was exclusively responsible and may be, therefore, charged with State terrorism. On the other hand, a number of narratives derived from different in-depth interviews conducted in May 2018 will also be analyzed. Most of the interviews were conducted with victims of violence in Lima and Huancavelica (Peru), but also with former and prominent members of Shining Path (PCP-SL) and the Military Forces, which provides a comprehensive account of the significance of political violence in Peru.
UCM subjects
Política
,
Ciencia militar
,
Guerra
Collections