Publication:
Visión computerizada aplicada a la medicina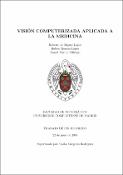 Advisors (or tutors)
Editors
Abstract
Este proyecto surge de una propuesta por parte de investigadores de la Universidad Complutense de Madrid en colaboración con personal médico del Hospital de la Paz para utilizar la potencia actual del procesamiento de imágenes a un tipo de heridas de características similares. En este caso, se ha diagnosticado la evolución de heridas quirúrgicas causadas en la extracción de zonas de capas superficiales de la piel, para su injerto en áreas con quemaduras. El problema consiste en la evaluación de diferentes métodos y herramientas de visión computacional para establecer una base para futuras investigaciones y desarrollo de aplicaciones que sirvan para agilizar procesos médicos. En esta memoria se muestran los diferentes caminos que se han seguido para la resolución de dicho problema, con los procedimientos seguidos en cada caso. Se muestran también los resultados obtenidos cuantitativamente y las imágenes resultantes, que servirán como fundamento para futuros estudios del tema.
This project came up out of a proposal by the hand of investigators from the Universidad Complutense de Madrid in collaboration with medical staff from the Hospital de la Paz to use the current image processing power applied to a type of wounds with similar characteristics. In this case, it is the diagnostic of the evolution of surgical wounds caused due to the extraction of superficial dermis areas, so as to implant them over burnt skin. The problem is to evaluate the different visual computer methods and tools to establish a base which would be useful for future investigations and development of applications that are used for speeding up medical procedures. In this memory it has been illustrated the different paths that were followed to acquire the resolution of this problem, along with the procedures for each case. They are also shown the obtained results in a quantitatively way and the result images since they will serve as a basis for future studies connected to this topic.
Description
Trabajo de Fin de Grado en Ingeniería del Software (Facultad de Informática, Curso 2013-2014)