Publication:
El problema de la demarcación entre ideología y religión en la obra de Max Scheler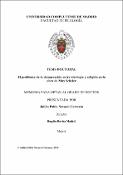 Files
Authors
Advisors (or tutors)
Editors
Publisher
Universidad Complutense de Madrid
Abstract
La presente investigación tiene el objetivo de estudiar la filosofía de Max Scheler (1874-1928) desde un conjunto de problemas que afectaron tanto a su vida como a su obra. Esta problemática viene marcada por la siguiente pregunta: ¿es toda religión una ideología? En otras palabras, ¿es la religión un saber engañoso, construido a partir de unos determinados intereses de una clase o un estamento? Esta es una cuestión que aborda directamente la naturaleza de la religión en sí misma y su esencia,independientemente de las explicaciones de las ciencias naturales y humanas. Es una pregunta que, desde mi punto de vista, sigue estando muy vigente en la actualidad. Esto se debe a que hoy en día nos encontramos con una valoración de la religión que no está exenta de prejuicios y de malentendidos. Por un lado, desde posiciones científicas,políticas, económicas e incluso espiritualistas, se consideran las religiones vigentes como un asunto del pasado y, por tanto, caduco. Por otro lado, dentro de las religiones y la variedad de credos religiosos encontramos un enfrentamiento interno, donde las creencias y confesiones ajenas son consideradas ideológicas. Esto último es un problema que atañe a la religión desde un pasado remoto y no es mi intención ahondar en ello.
The main objective of this research is to study the philosophy of Max Scheler (1874-1928) from a set of issues that affected his life and his work. These issues are interrelated by the following question: is every religion an ideology? In other words: is religion a deceptive knowledge built from the specific interests of a class or estate? This question directly addresses the nature of religion itself and its essence, regardless of the explanations of the natural and human sciences. From my point of view this question is still very valid today. The reason is that nowadays the appreciation of religion is not found exempt from prejudices and misunderstandings. On one side from scientific, political, economic and even spiritualistic positions, current religions are considered a matter of the past and, therefore, outdated. Otherwise, internal confrontation is found within the religions and the variety of religious creeds, where others' beliefs and faith sare considered ideological. This is a problem that concerns religion in the distant past and it is not my intention to inquire into it...
Description
Tesis inédita de la Universidad Complutense de Madrid, Facultad de Filología, leída el 24-06-2019
Collections