Publication:
Los ecos de un regicidio. La recepción de la revolución Inglesa y sus ideas políticas en España (1640-1660)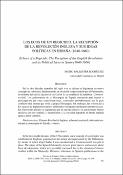 Authors
Advisors (or tutors)
Editors
Publisher
Centro de Estudios Políticos y Constitucionales
Abstract
En las dos décadas centrales del siglo xvii se afirma en Inglaterra un nuevo concepto de soberanía, fundamentado en la nación y representado por el Parlamento, en nombre del cual se ejecutó al rey Carlos I y se estableció la república (Commonwealth). Los gobernantes de la Monarquía de España mostraron gran interés y preocupación por estas transformaciones, acentuados probablemente por la gran conflictividad interna que vivía la propia Monarquía. Sin embargo, las referencias a los sucesos de Inglaterra en textos publicados en España son llamativamente escasas. En el presente artículo se argumenta que la censura oficial y la autocensura fueron decisivas en este sentido, y mantuvieron a la sociedad española en buena medida ajena a estos cambios.
In the two middle decades of the 17th century a new concept of sovereignty was established in England, grounded on the nation and represented by the Parliament, by means of which king Charles I was executed and a Commonwealth was put in place. The rulers of the Spanish Monarchy showed great interest and concern about these developments, which were probably increased due to the situation of intense conflict within the Monarchy. However, references in Spanish publications to the changes in England were remarkably scarce. This article argues that official censorship and self-censorship were decisive in this sense, keeping Spanish society largely unaware of these changes.
Collections