Publication:
Weaknesses in ENT Battery Design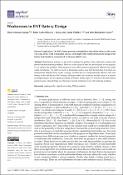 Advisors (or tutors)
Editors
Abstract
Randomness testing is a key tool to analyse the quality of true (physical) random and pseudo-random number generators. There is a wide variety of tests that are designed for this purpose, i.e., to analyse the goodness of the sequences used. These tests are grouped in different sets called suites or batteries. The batteries must be designed in such a way that the tests that form them are independent, that they have a wide coverage, and that they are computationally efficient. One such battery is the well-known ENT battery, which provides four measures and the value of a statistic (corresponding to the chi-square goodness-of-fit test). In this paper, we will show that this battery presents some vulnerabilities and, therefore, must be redefined to solve the detected problems.
Collections