Publication:
An equivariant version of the monodromy zeta function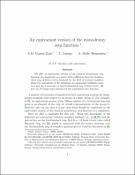 Authors
Gusein-Zade, Sabir Medgidovich
Advisors (or tutors)
Editors
Publisher
American Mathematical Society
Abstract
We offer an equivariant version of the classical monodromy zeta function of a singularity as a series with coefficients from the Grothendieck ring of finite G-sets tensored by the field of rational numbers. Main two ingredients of the definition are equivariant Lefschetz numbers and the λ-structure on the Grothendieck ring of finite G-sets. We give an A'Campo type formula for the equivariant zeta function.
Collections