Publication:
El nacimiento del psiquismo humano en las perspectivas de G.M. Edelman y X. Zubiri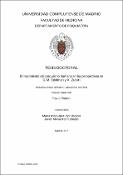 Files
Authors
Advisors (or tutors)
Editors
Publisher
Universidad Complutense de Madrid
Abstract
El objetivo de este trabajo es armonizar y complementar las teorías neurológicas de G. M. Edelman con las teorías epistemológicas de X. Zubiri para ofrecer una respuesta científica más coherente, profunda y lo más completa posible, a la génesis evolutiva del psiquismo humano y de la emergencia del conjunto de estructuras, actividades y funciones neurales que subyacen a la actividad psíquica de nuestra especie. Se trata, en otras palabras, del análisis de las causas, los factores y las circunstancias que, en el proceso de hominización, hicieron posible el desarrollo de nuestra manera propia, como especie, de organizar nuestro psiquismo. Este proceso, que empieza por la sensibilidad, la percepción, la memoria, el aprendizaje, llega hasta al pleno desarrollo de un lenguaje articulado, de la razón emocional y de la consciencia de manera gradual y escalonada. 2. Contexto científico y epistemológico en que se enmarca esta tesis Para abordar esta cuestión será necesario, por un lado analizar y entender el proceso de hominización, estudiado por la paleoantropología y la biología evolucionista y por otro, analizar e investigar, la anatomía y fisiología de estas estructuras y actividades, que subyacen a las diferentes funcionalidades de estos homínidos. Todo esto, dentro de un entendimiento más amplio del psiquismo animal en toda su generalidad. La paleoantropología y la biología evolucionista nos permiten entender la gradualidad de este proceso, y analizar el conjunto de causas que en el curso de millones de años acabarían con la emergencia de la razón emocional humana. Siendo así, es imposible entender este proceso, sin entrar en el análisis neurológico del cerebro y del sistema nervioso animal y de los homínidos, y sin analizar la neurología de nuestro sistema nervioso, sus particularidades anatómico-fisiológicas. Las teorías neurológicas de Edelman nos permiten conocer procesos fundamentales para explicar y entender el psiquismo animal y el psiquismo de nuestra especie. La topobiología, el darwinismo neuronal, la teoría de la selección de los grupos neuronales y la hipótesis de los morforeguladores, nos permiten entender en toda su generalidad, el proceso de evolución y desarrollo de los sistemas nerviosos animales como sistemas selectivos. El análisis y el estudio de la formación de los mapas globales, de la actividad de entrada y reentrada, de la categorización perceptiva, de la memoria, de los sistemas de valores y del aprendizaje animal, nos permiten entender la consciencia primaria y el presente recordado...
The aim of this work is to harmonize and complement the neurological theories of Zubiri with the epistemology theory of Zubiri, to offer the most coherent, and profound, and most complete explanation possible, to the evolutionary genesis of human psychism; about the emergence of the group of structures, activities and neural functions, that constitute the psychism activities of our species. In other words, the aim is to analyze the causes, the factors and the circumstances that, in the process of hominization, made possible the development of our way, as a species, to organize our psychism. This process that goes from sensations, perception, memory, learning patterns, developing gradually until articulated language, emotional reasoning and consciousness. 2. Scientific and epistemological context which this thesis covers To tackle this question it is necessary to analyze and understand the process of hominization, studied by paleoanthropology and evolutionist biology and analyze and investigate the anatomy and physiology of these structures and activities, which underline the different functions of these hominids. All this within a greater understanding of the animal psychism. Paleoanthropology and evolutionist biology allow us to understand the gradual evolution of this process and to analyze the various causes from which, over the course of millions of years, would emerge human emotional reasoning. It is impossible to understand this process without the neurological analysis of the animal brain and nervous system and of that of the hominids, and also without the analysis of the neurology of our own nervous system with its anatomic-physiologic particularities. The neurological theories of Edelman explain the fundamental processes to which in turn allow us to explain and understand the animal psychism and that of our own species. Using topobiology, neural darwinism, selection theory of neural groups and the hypothesis of the morphoregulators, we can thoroughly understand the evolutionary process and the development of animal nervous systems as selective systems. The analysis and study of global map formations, entry and re-entry activity, perceptive categorization, memory, value systems and animal learning patterns allow us to explain primary consciousness and remembered present...
Description
Tesis inédita de la Universidad Complutense de Madrid, Facultad de Medicina, Departamento de Psiquiatría, leída el 08/02/2016
Collections