Publication:
Aplicación de medicina personalizada en patología mitocondrial: tratamiento con nucleósidos pirimidínicos en el déficit de timidina quinasa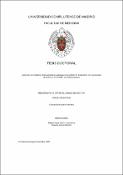 Authors
Advisors (or tutors)
Editors
Publisher
Universidad Complutense de Madrid
Abstract
La timidina quinasa 2, codificada en el ADN nuclear, es una proteína implicada en la síntesis intramitocondrial de nucleótidos pirimidínicos (desoxitimidina monofosfato y desoxicitidina monofosfato), imprescindible en el mantenimiento del ADN mitocondrial (ADNmt). Mutaciones recesivas en el gen TK2 causan depleción y deleciones múltiples del ADNmt que se manifiestan en forma de miopatía progresiva con edad de inicio y gravedad variable. Se desconocen las características clínicas y el pronóstico de las formas de inicio tardío (después delos 12 años), que son las menos frecuentes (con menos de 17 casos publicados en la literatura hasta el año 2019). No se dispone de ningún tratamiento para este trastorno y su mortalidad es muy alta; sólo un 27.3% de pacientes con la forma de inicio infantil sobreviven al menos 2 años después del comienzo de los síntomas...
Thymidine kinase 2, encoded by the nuclear gene TK2, is an enzyme involved indeoxynucleotides synthesis (deoxythymidine monophosphate and deoxycytidine monophosphate), which is required for mitochondrial DNA (mtDNA) maintenance. Autosomal recessive TK2 mutations cause both mtDNA depletion and multiple mtDNA deletions predominantly leading to progressive myopathy with variable age at onset and severity. Clinical characteristics and prognosis of the late-onset form of TK2 deficiency (age-at-onset after 12 years) are unknown, being the less frequent presentation with only 17 cases reported until 2019. Currently, treatment for this disorder is not available and the mortality rate is very high with only 27.3% of infantile forms cases surviving at least 2 years after onset...
Description
Tesis inédita de la Universidad Complutense de Madrid, Facultad de Medicina, leída el 28/10/2020. Tesis formato europeo (compendio de artículos)
Collections