Publication:
Mecanismos de acción de los flavanoles del cacao en riñon y endotelio durante la diabetes. Estudio en cultivos celulares y animales de experimentación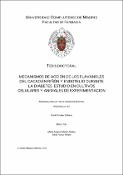 Authors
Advisors (or tutors)
Editors
Publisher
Universidad Complutense de Madrid
Abstract
La diabetes tipo 2 (T2D, de sus siglas en inglés Type 2 Diabetes) es considerada una de las patologías con mayor incidencia en el mundo, y se caracteriza por un cuadro clínico de resistencia a la insulina y un defecto en la secreción de la misma que conduce a niveles altos de glucosa en sangre, y a una glucotoxicidad tisular. Esta hiperglucemia altera numerosas vías de transducción de señales y favorece el desequilibrio del estado redox, conduciendo a la aparición de las complicaciones diabéticas que afectan a varios tejidos, destacando las complicaciones macrovasculares (alteraciones del endotelio vascular) y las complicaciones microvasculares (nefropatía, entre otras). En este sentido, los polifenoles de la dieta (como los presentes en el cacao), y los ácidos fenólicos derivados de su metabolismo microbiano podrían prevenir estas alteraciones debido a sus propiedades antioxidantes, antidiabéticas y antiinflamatorias. Estas actividades biológicas de los polifenoles vienen dadas por los compuestos puros, como la epicatequina (EC) y por los metabolitos colónicos resultantes de su metabolismo por la microbiota intestinal, como el ácido-2,3-dihidroxibenzoico (DHBA, de sus siglas en inglés 2,3‐dihydroxybenzoic acid), el ácido-3,4-dihidroxifenilacético (DHPAA, de sus siglas en inglés 3,4-dihydroxyphenylacetic acid) y el ácido-3,4-hidroxifenilpropiónico (HPPA, de sus siglas en inglés 3,4-hydroxyphenylpropionic acid), que son los más abundantes en orina y plasma tras la ingesta de alimentos ricos en flavanoles. Este hecho convierte al microbioma en un componente clave para el desarrollo de las distintas propiedades de los compuestos fenólicos. La microbiota intestinal participa en múltiples funciones en el organismo, entre las que destacan su capacidad de modular el sistema inmune y de regular la permeabilidad intestinal y el metabolismo de los nutrientes. Así, pequeños cambios en la composición de la microbiota intestinal podrían dar lugar a una disbiosis y, con ella, a una desregulación de todas estas funciones...
Type 2 Diabetes (T2D) is considered as one of the pathologies with the highest incidence worldwide and it is characterized by insulin resistance, and a defect in its secretion, which leads to high levels of glycaemia, and tissue glucotoxicity. This hyperglycaemia affects numerous signal transduction pathways and promotes the imbalance of the redox state, leading to the onset of diabetic complications, including macrovascular complications (vascular endothelium alterations) and microvascular complications (nephropathy, and others). In this line, dietary polyphenols (such as those present in cocoa), and phenolic acids derived from their microbial metabolism could prevent these alterations due to their antioxidant, antidiabetic and anti-infinflammatory properties. These biological activities of polyphenols are attributed to pure compounds, such as epicatechin (EC), as well as to their colonic metabolites coming from their microbial metabolism in the gut, such as 2,3-dihydroxybenzoic acid (DHBA), 3,4-diphenylhydroxylacetic acid (DHPAA) and 3-hydroxyphenylpropynic acid (HPAA), which are the most abundant in urine and plasma after the intake of flavanol-rich foods. This feature makes the microbiome a key component for the development of the different properties of phenolic compounds. The gut microbiota participates in multiple body functions, among which it could be mentioned modulation of the immune system and the regulation of the intestinal permeability and the metabolism of nutrients. Thus, small changes in the composition of the gut microbiota could lead to dysbiosis and, with it, a deregulation of all these functions...
Description
Tesis de la Universidad Complutense de Madrid. Facultad de Farmacia, leída el 25-06-2020
Collections