Publication:
Puesta en marcha de un acelerador portátil para radioterapia intraoperatoria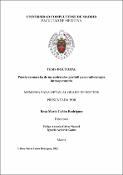 Files
Authors
Advisors (or tutors)
Editors
Publisher
Universidad Complutense de Madrid
Abstract
La Radioterapia Intraoperatoria (IORT) es una técnica que administra una dosis única y elevada de radioterapia durante un procedimiento quirúrgico, sobre el lecho microscópico o residuo tumoral, limitando la irradiación de los órganos y tejidos sanos adyacentes, que quedan rechazados fuera del campo quirúrgico. Existen varias técnicas y procedimientos para administrar IORT: IOERT (Radioterapia Intraoperatoria con Electrones), HDR-IORT (Braquiterapia de Alta Tasa de Dosis), KV- IORT (Rayos X de Bajo Kilovoltaje).Sus primeras aplicaciones fueron para tratar diferentes tumores malignos, tanto primarios como recidivas, con la intención de disminuir el fallo local de dichos tumores. En las dos últimas décadas ha tenido un importante desarrollo como técnica de irradiación parcial en el tratamiento de pacientes con cáncer de mama, disminuyendo la irradiación del tejido sano próximo y así la toxicidad, permitiendo acortar o suprimir los días de radioterapia externa, con el consiguiente incremento en calidad de vida para las pacientes. Históricamente la IOERT se administraba en el Búnker del servicio de radioterapia, siendo necesario trasladar al paciente desde el quirófano, lo que ha supuesto el principal inconveniente para su implantación. Durante los últimos años se han desarrollado aceleradores móviles de electrones, que ubicados en el quirófano permiten la irradiación en la sala quirúrgica, evitando los riesgos del traslado, blindajes y acortando los tiempos del procedimiento...
Intraoperative Radiotherapy (IORT) is a technique that aims to deliver a single, high dose of radiation therapy in the microscopic bed or tumor residue during a surgical procedure, restricting the irradiation of adjacent healthy organs and tissues, which are pulled apart from the field.There are several techniques and procedures to administer IORT: IOERT (Intraoperative Electron Radiation Therapy); HDR-IORT (High Dose Rate Brachytherapy); KV-IORT (Low Kilovoltage X-rays).Initially was used to treat different malignant tumors, both primary and relapsed, with the intention of reducing local failures.In the last two decades has been also used to treat patients with breast cancer as a partial irradiation technique. It has permitted to reduce the irradiation of surrounding tissue and the corresponding toxicity and to shorten or suppress the external irradiation, resulting in a significant benefit in the quality of life of patients.Historically the IOERT was administered in the bunker of Radiotherapy units, with thetransfer of the patient from the operating room, which has been the main inconvenience for their development.During the last years, mobile electron accelerators have been developed.Located in the operating room, they enable the irradiation in the same place, avoiding the risks of transfer and shielding and reducing operation times...
Description
Tesis inédita de la Universidad Complutense de Madrid, Facultad de Medicina, leída el 27-05-2022
Collections