Publication:
m_π and N_c dependence of rho and σ mesons from unitarized chiral perturbation theory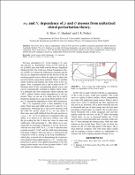 Advisors (or tutors)
Editors
Publisher
American Institute of Physics
Abstract
We review the N_c and m_π dependence of the rho(770) and σ (or f_0(600) resonances generated with the Inverse Amplitude Method. The σ N_c behavior is at odds with being dominantly a q̅q̅ state, but there is a hint of a subdominant q̅q̅o component with a mass above 1 GeV. We find fair agreement with lattice results for the chiral extrapolation of the ρ mass, and that the ρ π π coupling is almost m_π independent whereas the σ π π depends strongly on m_π.
Description
ISSN: 0094-243X ©2011 American Institute of Physics 978-0-7354-0899-9. International Conference on Quark Confinement and the Hadron Spectrum (9. 2010. Madrid).
Citation
1. J. R. Pelaez and G. Rios, Phys. Rev. Lett. 97, 242002 (2006) 2. C. Hanhart, J. R. Pelaez and G. Rios, Phys. Rev. Lett. 100, 152001 (2008)
Collections