Publication:
Vasili Petróvich Botkin y sus "Cartas sobre España"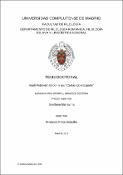 Authors
Advisors (or tutors)
Editors
Publisher
Universidad Complutense de Madrid
Abstract
No son muchos los rusos que visitaron España en los siglos pasados, y son realmente pocos los que dejaron escritas sus impresiones de estos viajes. Y si se halla algo, casi siempre se trata de informes de misiones diplomáticas o despachos de embajadas. Las primeras impresiones propiamente literarias las encontramos en la obra de Vasili Petróvich Botkin1. Por esta razón, nos ha parecido oportuno e interesante proponer una investigación sobre el viajero, su libro y aquel viaje, causante de la aparición de las Cartas sobre España, la obra clave que ha contribuido a «modelar, formar y fijar una imagen de una nación en otra y de una cultura en otra, lo que, de forma también directa, tuvo que influir en la calidad de las relaciones humanas, sociales, políticas, económicas y culturales»2 entre España y Rusia. El destino final de aquel viaje fue la obra Cartas sobre España, que está indisolublemente unida a la de vida y circunstancias de su autor, Vasili Petróvich Botkin. Estudiarla con la profundidad que merece, exigirá también profundizar en la figura que está detrás...
Few were the Russian travellers that visited Spain and left behind a written account of their impressions. Oftimes, there are the reports on diplomatic missions and embassy dispatches. Yet, it is in the work of Vasili Petróvich Botkin that we first find a literary record of impressions. Hence, we thought it proper and intriguing to carry out research on the traveller, on his trip, and on the resulting book, Letters on Spain, which is broadly regarded as the foremost book of travel that helped "forge, shape and establish the prevailing image of one nation, and one culture in the other, and had a direct effect upon the human, social, political, economic and cultural relations"690 between Spain and Russia. Letters on Spain is inextricably linked to the life and bearings of Vasili Petróvich Botkin. A well-deserved critical study of our work -we were soon aware of-, calls for a comprehensive analysis of the personality of its author. Thus, we offer here, in an appendix, a translation of the text we have put together, accompanied by its contextualization...
Description
Tesis inédita de la Universidad Complutense de Madrid, Facultad de Filología, Departamento de Filología Románica, Filología Eslava y Lingüística General, leída el 14/01/2016
Collections