Publication:
Nuevos factores asociados a la densidad mamográfica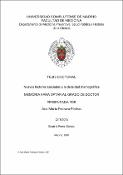 Files
Authors
Advisors (or tutors)
Editors
Publisher
Universidad Complutense de Madrid
Abstract
El cáncer de mama es el tipo de cáncer más frecuente en las mujeres españolas, con una cifra estimada de 25.000 casos nuevos cada año. Uno de los marcadores de riesgo más importantes y más estudiados en la actualidad para este tipo de tumor es la densidad mamográfica (DM), que se corresponde con la proporción de área clara de la imagen mamográfica. La DM se ha asociado con la mayoría de los factores de riesgo clásicos de cáncer de mama, pero existen aún lagunas sobre su posible relación con exposiciones asociadas al riesgo de tener este tumor, como por ejemplo, la disrupción del ritmo circadiano, o en exposiciones cuya relación con el cáncer de mama está aún en estudio como son los problemas tiroideos.Según la Agencia Internacional para la Investigación en Cáncer (IARC), el trabajo en turnos de noche que implica disrupción circadiana es probablemente carcinogénico en humanos (Grupo-2A). Es una exposición frecuente, ya que del 12% al 22% de los trabajadores en España lo hacen en turno de noche. A pesar de estos datos, el estudio del trabajo en turnos nocturnos y de problemas de sueño con relación a la DM es muy escaso...
Breast cancer is the most frequent type of cancer among Spanish women, with approximately 25,000 new cases every year. One of the most important and widely investigated risk markers for this type of tumor is the mammographic density (MD), which corresponds to the proportion of light area in the mammographic image. MD has been associated with most of the classic breast cancer risk factors, but there are still some gaps about its possible relation with exposures associated to the development of this tumor, for example, circadian rhythm disruption or exposures that are still under investigation like thyroid disorders.According to the International Agency for Research on Cancer (IARC), night shift work involving circadian disruption is probably carcinogenic for humans (2A group). This type or work is a common exposure, since between 12% and 22% of workers in Spain do night shifts. Despite this data, the research on night shift work and sleep problems in relation to MD is scarce.Other possible factors that could be related to breast cancer are thyroid disorders. Results of studies evaluating the association between thyroid diseases, especially hypothyroidism, and this tumor are contradictory. The role of these factors in relation to mammographic density has not been studied so far...
Description
Tesis de la Universidad Complutense de Madrid, Facultad de Medicina, Departamento de Medicina Preventiva, Salud Pública e Historia de la Ciencia, leída el 07-06-2017
Collections