Publication:
Optimizing the radioisotope production of the novel AMIT superconducting weak focusing cyclotron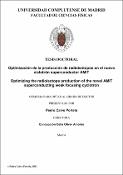 Authors
Advisors (or tutors)
Editors
Publisher
Universidad Complutense de Madrid
Abstract
Nuclear imaging techniques are becoming one of the most widely used medical diagnostics tools for certain illness such as cancer and Alzheimer disease. The increase in these medical procedures, particularly positron emission tomography, is leading to a saturation of the actual radioisotope production system. Therefore, particle accelerators, specially the cyclotron, emerged as an alternative to the traditional supply system based on centralized production in nuclear reactors. Its characteristics from the physical and technological point of view allow a controlled and localized production, especially relevant in the case of short-lived radionuclides, through a well-known technology developed for decades without the use of a large and expensive facilities. With that in mind, the AMIT project (Advanced Molecular Imaging Technologies) aims to extend the use of these medical procedures with the development of a new compact cyclotron focused on the on-site short-life radioisotopes production, specifically 11C and 18F, in hospitals and research centers. In order to achieve this main objective, the AMIT cyclotron is based on a classical weak focus configuration with high magnetic field provided by a superconducting magnet with an autonomous cryogenic system. In addition, with the aim of reducing the total size of the accelerator, the cyclotron employs an internal H- ion source with an electron stripping system that provides a final proton beam that is transported to the production target. This thesis evaluates the challenging combination of all the technical characteristics of the AMIT cyclotron, which results in a balance of the beam dynamics with all the subsystems to achieve an optimal radioisotope production. For this goal, all the physical processes associated with the beam acceleration from the ions production and the injection into the accelerator, to the extraction of the resulting beam and its transport to the target are studied by means of theoretical analysis, computational calculations and experimental measurements...
Las técnicas de imagen nuclear se están convirtiendo en uno de los diagnósticos médicos más empleados para ciertas enfermedades como el cáncer y el Alzheimer. El incremento de estos procedimientos médicos, en particular de la tomografía por emisión de positrones, está dando lugar a una saturación del sistema actual de producción de radioisótopos. Por ello, los aceleradores de partículas, en especial el ciclotrón, surgieron como una alternativa al sistema tradicional de suministro basado en la producción centralizada en reactores nucleares. Sus características desde el punto de vista físico y tecnológico permiten una producción controlada y localizada, especialmente relevante en el caso de radionucleidos de vida corta, a través de una tecnología bien conocida y desarrollada desde hace décadas sin necesidad de una gran y costosa instalación. De esta forma, el proyecto AMIT (Advanced Molecular Imaging Technologies) pretende ampliar el empleo de estos procedimientos médicos con el desarrollo de un nuevo ciclotrón compacto diseñado para la producción in-situ de radioisótopos de vida corta, concretamente 11C y 18F, en hospitales y centros de investigación. Con el fin de lograr este principal objetivo, el ciclotrón está basado en una configuración clásica de enfoque débil con alto campo magnético proporcionado por un imán superconductor con un sistema criogénico autónomo. Además, con el fin de contribuir a la reducción del tamaño total del acelerador, el ciclotrón emplea una fuente interna de iones H- con un sistema de extracción por desprendimiento de electrones que proporciona un haz final de protones que es transportado hasta el blanco de producción. Esta tesis evalúa la exigente conjunción de todas las características técnicas del ciclotrón AMIT, que da lugar a un balance de la dinámica del haz con todos los subsistemas para lograr una óptima producción de radioisótopos. Con este fin, todos los procesos físicos asociados con la aceleración del haz desde la producción de los iones y su inyección en el acelerador, hasta la extracción del haz resultante y su transporte hasta el blanco, son estudiados mediante análisis teóricos, mediciones experimentales y cálculos computacionales...
Description
Tesis inédita de la Universidad Complutense de Madrid, Facultad de Ciencias Físicas, leída el 19/01/2021
Collections